Halloween Event & Contest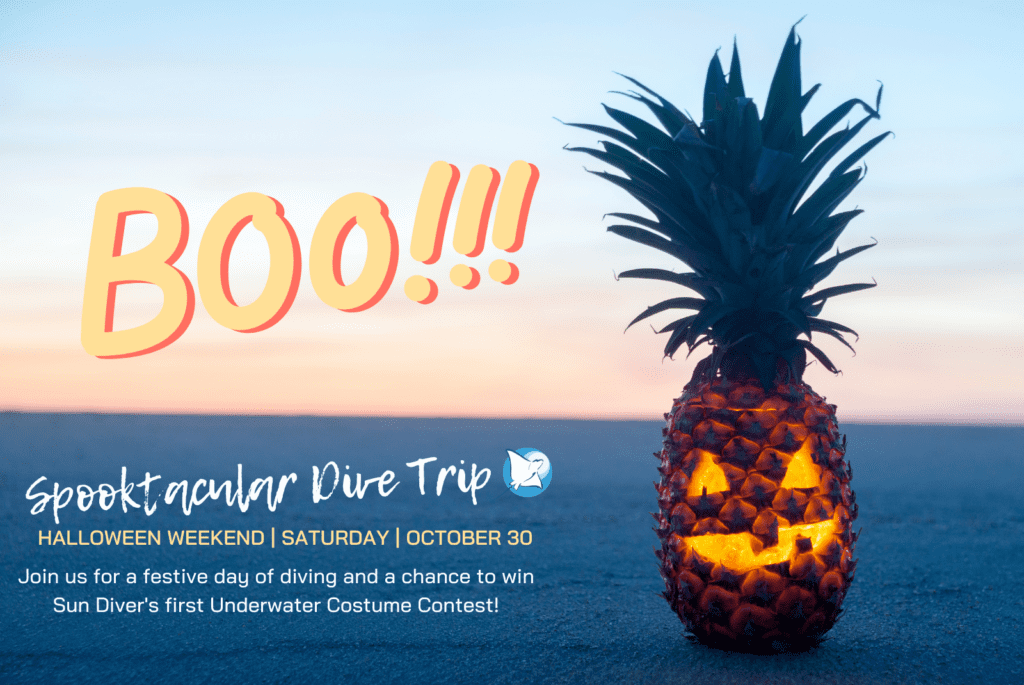 By Sun Divers Roatan / October 07, 2021 /
Blogs
Spooktacular Dive Trip
When: Saturday, October 30 | 8:00 AM to Noon
Where: Sun Divers – Half Moon Bay in West End, Roatan (near Sundowners Beach Bar)
Cost: $80
*Includes two-tank dive trip, costume contest entry + chance to win prizes, and Halloween treats! Does not include equipment rental or Roatan Marine Park User Fee (prices here)
---
About the Event
It's true that it never feels quite like fall in the Caribbean. Palm tree fronds don't change color. Pina coladas are more the rage than pumpkin spice lattes. But that doesn't mean we can't enjoy the festivities. Especially if it means mixing in a little creativity and fun with our most favorite thing here at Sun Divers: diving with you all, of course!
Introducing Sun Diver's first Spooktacular Dive Trip and Underwater Costume Contest. 
Yes, you read that right: UNDERWATER costume contest.
Sun Divers is getting spooky!
First and foremost, this is really just an excuse to get the coolest dive tribe around together for some frighteningly good fun – including those that won't be on the island (more on that in a minute). We'll run our two-tank morning trip per usual, but with a few twists:
We'll do a beachside surface interval that will include some pumpkin spiced up snacks and 'dive or dare' games. And what would Halloween diving be without an underwater costume contest?
Underwater Costume Contest, you say?
That's right boys and ghouls. We want you to get creative with those underwater outfits. In fact, you can go all-out-Darth Vader if you want. Or how about an underwater unicorn? Wear whatever floats your boat….as long as it is safe for scuba and for the ocean.
A few tips to make sure safety's first:
Choose a costume that will not obstruct or get caught on your gear, nor affect your dive skills. Non-scuba masks can be worn on the boat and for photo opps, but not on the actual dives.
Leave no trace and keep it reef friendly. Avoid anything that will wash off or fall off while diving.
Keep it family friendly. Hopefully we don't have to explain this one!
How to Win
Photos of contestants will be posted on the Sun Divers Facebook Page. Entrants must like the Sun Diver's facebook page to allow for tagging.
Sun Diver Facebook fans near and far will have 24hrs to vote by liking the pics of their favorite costumes
1st, 2nd and 3rd place winners, based upon # of likes, will be announced via Facebook on Halloween Day, Sunday, October 31
What You'll Win
First place – $200 Gift Card to ScubaPro
Free two-tank dive trip
Sun Divers swag
Are you in? Reserve your spot today! 
For questions about the event, you can contact us at diving@sundiversroatan.com.