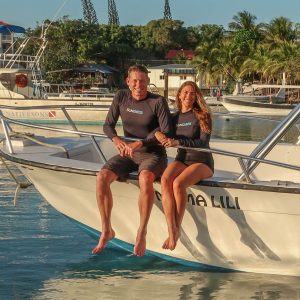 Since that first date in 2012, Natalie and Shannon Shuman shared a dream to run a dive center that would create a community of people from around the world who shared their love for the ocean and its conservation. They actively pursued making this dream happen and in 2021 became the owners and operators of Sun Divers.
In Sun Divers, they've nurtured a place and a team of people that share their obsession for exceptional customer service, exceptional quality of operations and, of course, unforgettable diving experiences. Get to know a bit about them and the amazing team that make Sun Divers the special place that it is.
---
Shannon Shuman
Owner, Operations, Strategic Partnerships, PADI Open Water Scuba Instructor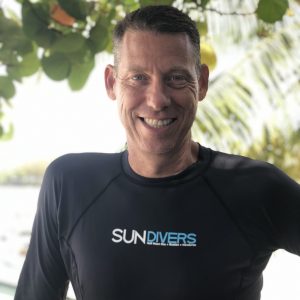 Shannon has been an SSI Advanced Open Water Instructor for over 15 years and is now also a PADI Instructor with many thousands of dives under his belt in every imaginable environment: cold, warm, dark, vibrant, deep, but all beautiful.
Shannon also spent 25 years leading business divisions within B2B trade media organizations – meaning he knows business. He's the brain of Sun Divers' operations and your go-to guy if you need an equipment fix.
Shannon's love for diving started as a young boy when his family moved to Clearwater, Florida. While most kids were out skateboarding or playing video games after school, Shannon was diving. He's always loved to shared diving with those closest to him including his son, Natalie and his best friends. Today, he's thrilled to share diving with the entire community of Sun Divers customers from around the world.
Shannon's spirit animal: "I'm captivated by all marine animals, but coming eye to eye with an Orca has probably been one of the most meaningful connections to the underwater world that I've experienced. In that moment you can sense the intelligence, curiosity, power and grace of these beings."
---
Natalie Shuman
Owner, Customer Relations, Marketing, PADI Open Water Scuba Instructor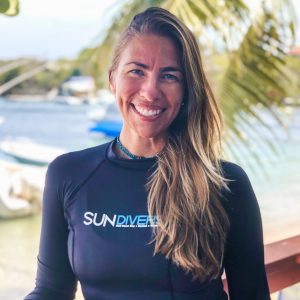 Natalie is likely the first person you'll talk to – either via email, social media or at the shop – when you connect with Sun Divers. She's there to make sure every aspect of your dive experience is perfect from booking your spot on our boats, planning dive groups, scheduling courses to even helping you find the perfect place to eat out every night or spend your dry day.
Natalie is a PADI Open Water Scuba Instructor and also has a background in international marketing, having worked with mission-driven brands in health & wellness, fresh produce and sustainable food technologies. Read more about how her and Shannon made the big leap from corporate to island life.
A California native, Natalie grew up boogie boarding and building sand castles on the shores of SoCal. She was always fascinated with the world under the waves. As a young girl she wrote a report on seahorses and had always dreamed of seeing one in the wild. But it wasn't until she met Shannon that she was able to get certified and make her dream come true. You know the story. Girl meets boy. Boy is a dive instructor…
Natalie's Spirit Animal: "The seahorse. I still cries a few happy tears whenever I see one – which is a lot more frequent these days. They're remind me that dreams do come true!"
---
Ricky Wesley – PADI Master Scuba Diver Instructor
Habla Español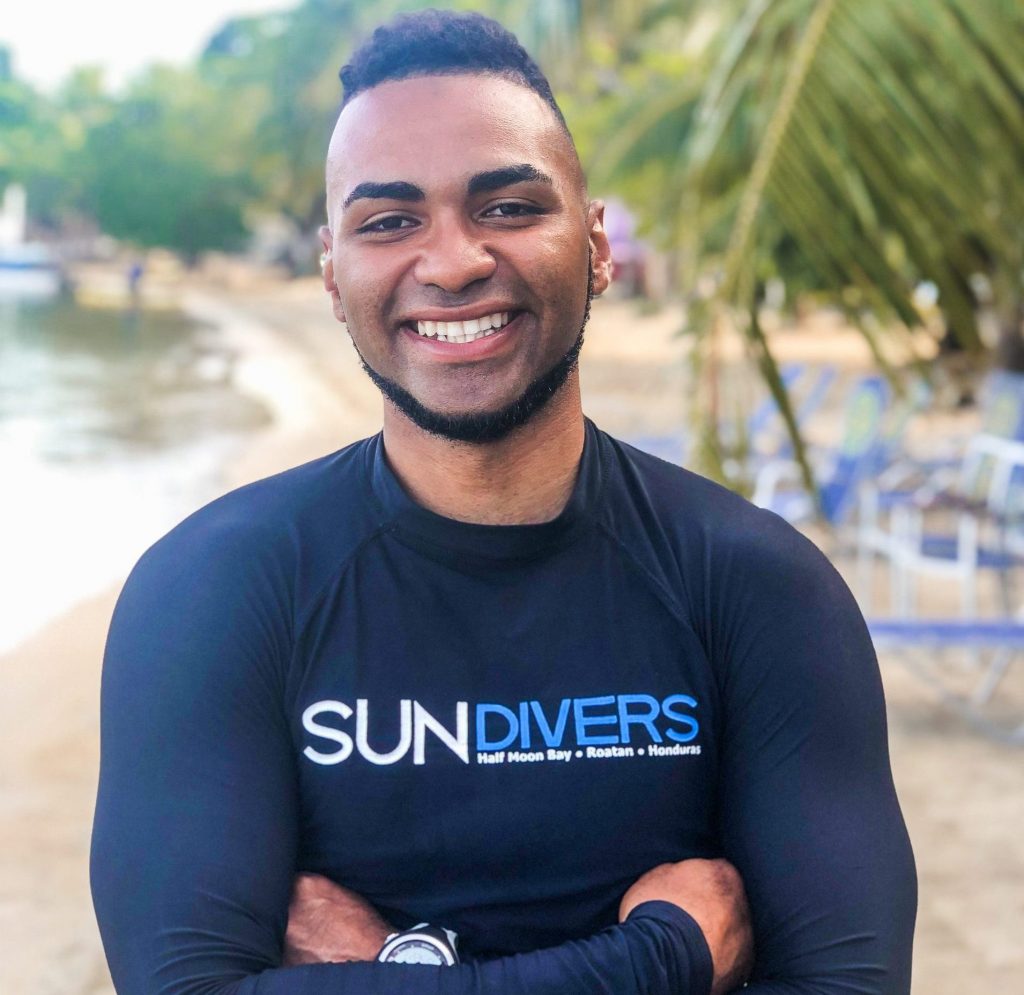 It's not a stretch to say that Ricky was born to be a dive instructor. He's a third generation islander and the second in his family to become a PADI dive instructor after his favorite Uncle Luis. As a young kid, Ricky looked up to his uncle and wanted to be a dive instructor just like him. But his love for the ocean started even earlier. Ricky has been in love with the ocean since his mother taught him to swim. And that was on the very beach where Sun Divers is now and where he today he sparks that same passion for the ocean in many a student.
With the Roatan reef as his "backyard", Ricky learned to navigate the dive sites from a young age and prior experience as a boat captain has taught him to read sea conditions for just the right dive site selections. He's known for being a sweet humble guy, despite customers always raving about his "magic eyes" that seem to always find something exciting on every dive.
As a PADI Master Scuba Diver instructor, Ricky has certified hundreds of students at all levels and is qualified to certify students in the following specialties: Deep Diver, Wreck Diver, Peak Performance Buoyancy, Night Diver, Underwater Navigator, Drift Diver and Search & Recovery.
Ricky's spirit animal: "The octopus represents strength to me. When it grabs its prey, there's no escaping." Kind of like the way Ricky held onto his dream to become an instructor.
---
Nick Griffiths – PADI Open Water Scuba Instructor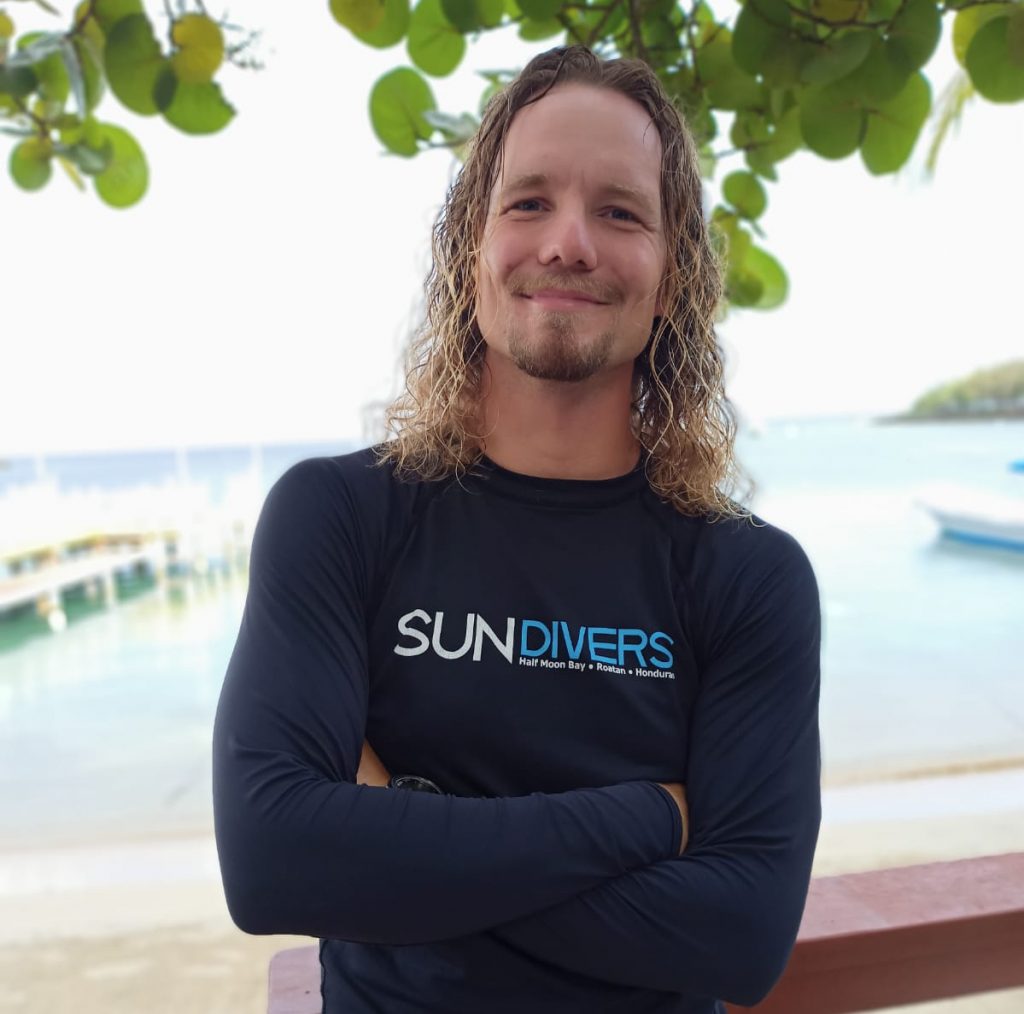 Nick grew up in the Highlands of Scotland surrounded by the sea and in one of only two places where dolphins reside. The ocean of his childhood was too cold for Nick's taste, but the dolphins and occasional whale sightings spurred a desire to explore what was underneath the sea.
A world traveler who has visited over 40 countries, Nick ultimately found the warmer waters of Utila where he became a PADI Open Water Scuba Instructor. In 2018, he joined the Sun Divers team and has been an exceptional addition ever since. Nick loves making diving adventurous and fun, and gets especially excited when divers request swim throughs. For him, the feeling of diving through tunnels, crevices and caves is so adventurous and such an exhilarating and beautiful experience. And like any great instructor, he thinks they're also a great way to practice your buoyancy!
In addition to being an Open Water Scuba Instructor, Nick also instructs EFR, Oxygen and Enriched Air courses.
Nick's Spirit Animal: "I love seeing Octopuses and I'm always in awe of their intelligence, camouflage and learning about their genetics. Their ability to squeeze through tight holes too." Kind of like Nick with those small swim throughs.
---
Ana Meza – PADI Open Water Scuba Instructor
Habla Español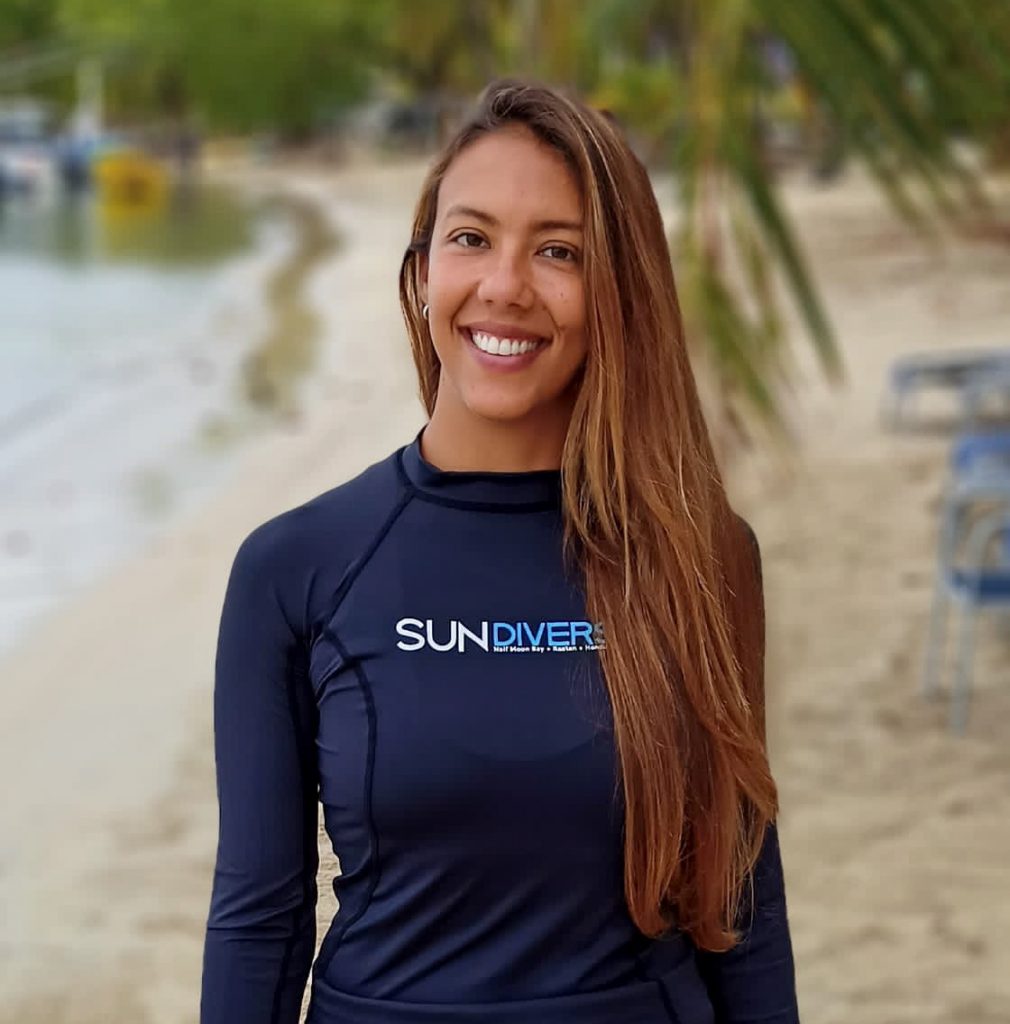 Ana has been a part of the Sun Divers' team since 2018. While she loves any activity that allows her to be in the water – from leading dives to instructing and volunteering with our conservation dives. She especially loves connecting new divers of all ages to the peace, freedom and excitement of the ocean for the first time. And she is extremely great with kids, likely because it was in her own childhood that Ana first found her connection to the ocean.
Ana grew up in the bustling yet landlocked city of Medellín, the capitol of the Colombian providence of Antioquia, where every summer she and her family would escape to the shores of Cartageña. And every summer Ana would leave her "first true love" behind.
At first chance, Ana moved to the coast where she began diving every weekend, but soon weekends just weren't enough so she decided to become a dive instructor – and are we glad she did! Ana is known for always bringing her infectious enthusiasm for life, passion for the ocean and keen eyes for critter spotting to dive trips.
Ana's spirit animal: "I love whales because the entire ocean is their home. They have no limits and they go wherever theirs hearts tell them. They are also the most peaceful animal I have ever seen. In their eyes I can always see wisdom and tranquility."
Orlin Emilson – Captain of the Mama Lili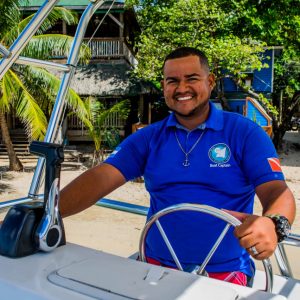 Orlin is the proud captain of our custom 28-foot dive boat the Mama Lili.
A Roatan native, he has chartered the waters here for almost 15 years and has been a part of the Sun Divers team since 2015. Orlin has a deep respect for the sea and credits the turquoise waters of Roatan for bringing him much tranquility and peace.
He also loves ensuring the comfort and enjoyment of our dive guests – which is probably why he's so well known for his big bright smile and helping hand, always ready to greet you back into the boat. And he never misses a chance to spot whale sharks, dolphin pods or eagle rays from atop his captain's tower.
Orlin cares for his boat as well as he cares for our guests, always ensuring that it's in tip top shape and ready to provide the smoothest of Caribbean ocean rides to the best of Roatan's dive sites.
---
Olman Mejia – Captain of the Katie Belle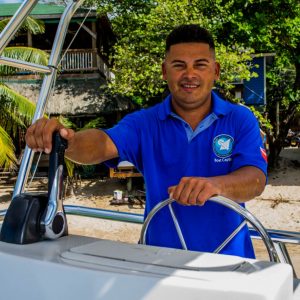 Olman, captain of the Katie Belle, has been a key part of the Sun Divers team since the center opened in 2013. Don't let his baby face or fun-loving personality fool you, his experience as a boat captain spans 17 years and it shows in his expert handling of his boat and knowledge of the Roatan reef system.
Surrounded by the Roatan fishermen in his family, Olman has been a self-described boat fanatic since he was a boy – enamored with the power and physics of these water vessels. It was his childhood dream to become a boat captain, and today he is happy to fulfill that dream at Sun Divers thanks to the staff and dive guests that he describes as being "like family."
Among his many talents, Olman is also an experienced diver and intuitively knows how to assist our dive guests whenever and wherever it is needed.