On any given day at Sun Divers, you'll see Gil with camera in hand, ready to capture the essence of all our adventures. One part underwater paparazzi, the other part pure artistic talent – and always donning a smile (unless he's breathing from a regulator). Learn more about how Gil came into his talent of underwater photography and portaits. And check out his gallery of amazing moments caught on camera.
---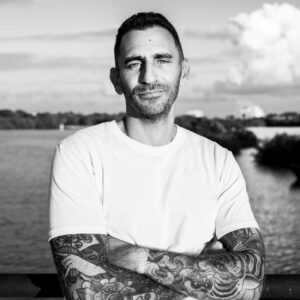 Gil Sassi is a self-taught, professional underwater photographer who has developed a stellar reputation for his ability to capture inspiring portraits of divers during their underwater explorations, as well as shots of amazing seascapes and wildlife. His work has been featured online with PADI, Scubapro, Scuba Diving Magazine, Ocean Technology Systems, and more. And he has traveled the world creating underwater content for dive shops, such as Dive Utila, and private photo sessions for divers.
Gil has always had an appreciation for the arts, but his original love was martial arts, Muay Thai specifically. This took him from his home in the UK to Thailand where he first dived and fell in love with the underwater world. Gil wanted to find a way to share his underwater encounters with others, so he shifted gears from martial arts to photographic arts, specializing in underwater photography and training with award winning photographers.
"I feel very privileged to be able to spend so much time seeing the magic of the underwater world. I love the idea of sharing what I'm seeing with others, as well as capturing photographic memories for my fellow divers.
We're proud to have Gil as our professional photographer. Schedule your private underwater photo session with Gil today.
---
Gil Sassi Portfolio