A Divemaster Internship on Roatan can change your life! So you want to make sure you find the right dive center fit for you. You should find somewhere you feel comfortable being yourself with a group of instructors you can relate to, learn from and have fun with!
At Sun Divers, we focus on quality not quantity when it comes to your experience. We take no more than 2 Divemaster Trainees (DMTs) at one time to ensure that you're getting ample opportunities for hands-on experience, individual instruction and exposure to all aspects of dive center operations. This includes assisting with certified divers and on all PADI courses. Because of this approach, you'll get to interact and buddy up with real customers in a real diving environment, not just other DMTs.
The Sun Divers' PADI Divemaster Internship is personalized to help you meet your professional training objectives whether it's to go on to be an employed divemaster, PADI instructor or just be the most competent diver you can possibly be.
What's a day in the life of a DMT look like?
See for yourself with this video from PADI Divemaster Laurie Janisson.
Mentors ensure success
You will dive with each member of our friendly, experienced team of dive instructors. Each instructor will have their own style and we encourage our staff to show DMT's the different ways to approach diving. There isn't a 'this is how it's done' mentality, but more of a 'this is what works for me' attitude. You will also have the opportunity to select a mentor who will be your primary guide through the program and ensure you complete all course requirements.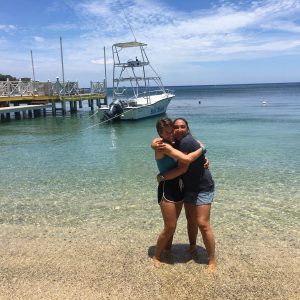 At Sun Divers we want you to finish your training as a confident, competent and employable DM. This means you will get real, hands-on experience under the direct supervision of your instructors and in environments you are trained and comfortable in.
Ultimately you will be prepared to be an employable PADI Divemaster the minute you have certification in hand.
But you'll leave with much more than that: amazing memories, great friends and mentors, and as a forever part of a dive tribe that will support you no matter where your path forward takes you.
---
Price: $950 + $275 DMT Crewpack
Time Commitment: 6 weeks minimum with flexibility for shorter or longer timeframes
Sign me up!
What You'll Learn
Daily shop operations & customer service
How to construct and conduct dive briefings
Dive site mapping & leading
How to properly demonstrate dive skills
Emergency prevention & management
Instructor level theory
What's Included:
6 weeks of instruction and diving
What You Achieve:
Divemaster certification making you employable as a dive guide worldwide
Requisites:
18 years or older, 40 logged dives, PADI Rescue Diver certification or equivalent from a recognized agency, current EFR certification or equivalent from a recognized CPR/First Aid program and completed PADI Medical Questionnaire.