Being "Always Eco-Active" is a core value at Sun Divers. And as a PADI 5-Star Dive Center, we support their AWARE Blueprint for Ocean Action. This has motivated us to develop a series of programs and partnerships to support marine conservation in Roatan and the people who work, live and play in the waves here.
These are the ways we're trying to create a small wave of positive change throughout our coastal community. And if you're looking for ways to volunteer in Roatan – we have a few options for you.
At Sun Divers we're all about the good vibes. But that's not just about having a good time blow bubbles. It's also about doing our part to make positive impact on our little part of the planet.
---
Marine Conservation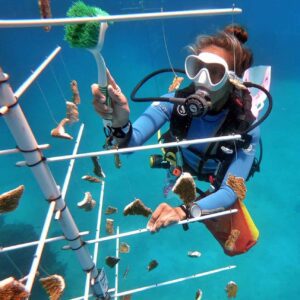 Coral Restoration Certified Dive Center
Coral coverage on the ocean floor is declining faster than coral colonies can recover from natural reproduction — and it's happening here on the Mesoamerican Reef in Roatan. But growing coral in nurseries and outplanting them on to the reef is one way that we can aid in the resilience and recovery of the reef. How so? Read more here.
We support the Roatan Marine Park's Coral Reef Restoration Program and we're looking for some coral warriors to become Ambassadors and help care for the coral nurseries, as well as assist in outplanting efforts. This is a unique opportunity to volunteer in Roatan and leave our coral reef healthier and more beautiful than you found it.
---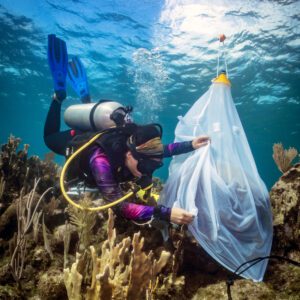 Sexual Coral Restoration
Local coral restoration stakeholders are partnering with SECORE International to conduct sexual coral restoration in Roatan with the hopes of rapidly increasing coral coverage in Roatan. Sun Divers is contributing boats, tanks, captain and team volunteer time to help with activities such as coral spawning monitoring and outplanting. Activities are conducted seasonally dependent upon coral spawning windows. But we're always looking for volunteers interested in supporting!
---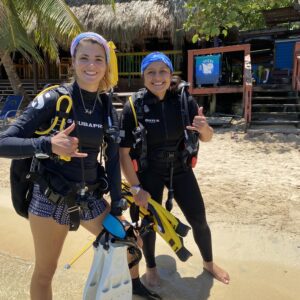 BICA Certification Project
The Bay Islands Conservation Association (BICA) is an important co-manager of the Bay Islands National Marine Park (BINMP). They conduct important scientific research and conservation activities that support the sustainability of the Mesoamerican Reef. Ensuring that there staff members have the sufficient scuba certification levels to safely and responsibly conduct their eco-dives is a must, but cost is a major barrier for this not-for-profit organization. We believe that the work that BICA does is important to marine conservation in Roatan and we are supporting their efforts by donating certifications to their staff from Open Water to Rescue Diver. The course is cost-free to BICA staff and Sun Divers instructors are volunteering their time to help their fellow ocean advocates.
---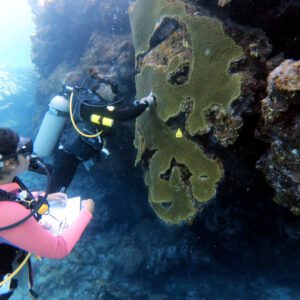 Dive Site Adoption & Stewardship
In 2021, Sun Divers adopted three dive sites in Roatan to which we committed our stewardship: Blue Channel, Shallow Aquario and Saaya's. The adoption was the catalyst for the Roatan Marine Park to create a formal Adopt a Dive Site program to encourage local dive shops to support SCTLD mitigation efforts. In collaboration with the Roatan Marine Park and the Bay Islands Conservation Agency, we held bi-monthly eco-dives to monitor these sites for Stony Coral Tissue Loss Disease (learn more about SCTLD here) and treat affected corals.
---
Community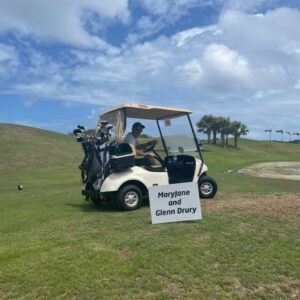 Charity Golf Tournament benefitting the Sol Foundation
Every fall, the Sun Divers Charity Golf Tournament brings the community together to enjoy a day on the green and support one of Roatan's most important non-profit organizations: SOL International Foundation. SOL works to initiate and support community based programs designed to promote education and increase the quality of life for Roatan's youth. The annual event is held at the Black Pearl at Pristine Bay – a Pete Dye-designed 18-hole golf course with jaw dropping views of the ocean. And the Awards Ceremony is always a good time at the Roatan Island Brewing Co.
---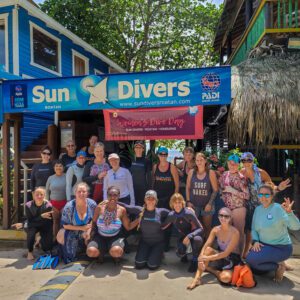 The Annual Dip & Sip:
A PADI Women's Dive Day Event
What could be more fun than diving with a group of amazing women and then socializing over sunset cocktails? Doing all that knowing it's benefitting local girls in Roatan. The Sun Divers and Sundowners Annual Dip & Sip takes place every year on Women's Dive Day with 100% of your ticket cost donated to the Roatan Peer Health Exchange. These funds support their International Girls Day event where young women from Roatan attend a series of workshops designed to educate them about reproductive health, mental health and important life skills. Additional funds are also used to support the ROA GIRLS DIVE scholarship program.
---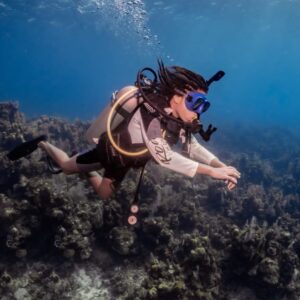 ROA GIRLS DIVE! Scuba Certification Scholarship Program
Sun Divers, Roatan Peer Health Exchange and PADI are partnering up to get more ROA GIRLS DIVING! This scholarship program certifies young women in Roatan in all recreational scuba diving courses from Open Water to Divemaster. Our goal is to enrich their lives, develop our future's environmental stewards and create awareness of the professional pathways that these young women can take in the scuba diving industry.
Learn more about the lives we've already touched through this program, and how you can sponsor a Roatan girl to achieve her scuba diving certification today.