Day Trips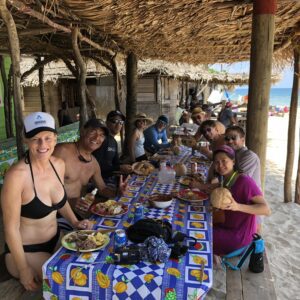 Cayos Cochinos Day Trip
The Cayos trip is a great land & sea tour with diving on the seamounts, as well as a traditional lunch from the Garifuna fishing village and time to explore the natural and cultural beauty of the archipelago. Pricing includes two dives, Cayos park fee and lunch.
Inquire for pricing, subject to sea conditions
Shark Dive
Get up close and personal with one of the most elusive, intelligent and important apex predators ever to roam our earth: Sharks. Swim with the beautiful, rarely seen Caribbean Reef Shark on this once in a lifetime dive and learn more about these astonishing creatures and their importance to our ecosystem. Requirements: Max depth is 70 feet, so divers must be 14 years of age or older and have their Advanced Open Water certification or Deep Adventure Dive training record. Here's what you need to know about the shark dive before signing up!
Inquire for pricing, subject to sea conditions
Seamounts Day Trip
Explore one of the Bay Islands top dives sites: the seamounts. 18 miles offshore from Roatan, this area is known for its abundance of spectacular coral formations and large schools of fish. Snorkels and fishing gear are always brought along, and there's a good chance you might get to try some sashimi right on the boat!
Inquire for pricing, subject to sea conditions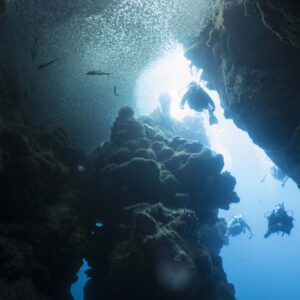 Southside Trip to Mary's Place
Take a day trip to experience the iconic Mary's Place, as well as the dramatic wall dives of the Southside. Renowned for its deep extended crack that was formed by volcanic activity, Mary's place features awe-inspiring overhangs and an abundance of sea life that can be found while swimming through the coral canyons. You'll visit two more amazing southside dive sites and make a stop off at Barefoot Cay for an al fresco lunch poolside at the unparalleled Silversides restaurant.
Inquire for pricing, subject to sea conditions
---
Private Charter
Chart your own destiny and choose your own dive sites – plus have the comfort of the entire dive boat all to yourself. Your private charter will come with a dedicated Sun Diver's captain and experienced instructor who can take you to the best of the best Roatan dive sites. Our private charter can comfortably accommodate up to 8 dive guests plus the Sun Divers crew.
---
Cayos Cochinos Day Trip