No experience? No worries!
The Discover Scuba Diving (DSD) experience is perfect for people who want to just dip their toes into diving. Also known as a "try dive", this is great for folks who are curious about the experience and want to give it a try without committing fully to the Open Water certification course.
There's no prior dive knowledge or experience required, no stress and no tests! Just an opportunity to expand your horizons on the amazing dive sites on Roatan's reef.
Have a hunch that you will want to get certified? You can upgrade your Discovers Scuba Diving experience to an Open Water 1 Dive which will give you credit toward the Open Water certification course (valid for one year.)
But beware, the crystal-clear waters of the Caribbean are perfect for training as well as creating unforgettable experiences. Don't be surprised if you get "hooked" and want that Open Water certification in Roatan, sooner rather than later!
Why go with Open Water 1?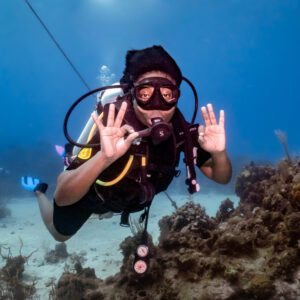 If there's a chance that you will want to pursue your open water certification in Roatan – or anywhere else for that matter, then it's recommended that you do the Open Water 1 vs. the Discover Scuba Diving experience. Here's why:
The Open Water 1 takes almost the same amount of time, but you will get credit toward the requirements you must fulfill for the Open Water 1 certification. This credit lasts for one year from your Open Water 1 experience.
If you continue your course with Sun Divers, your Open Water 1 fees will go toward the cost of your certification.
The Open Water 1 gives you a realistic example of what it's like to perform the skills necessary to become a certified Open Water diver.
Why do just the DSD?
You don't think you'll continue the course within one year
You really just want to "check the box" on experiencing diving
You want to save money ($25 USD)
---
What You'll Learn
The basics of Scuba diving including equipment set up, underwater signals and skills.
What's Included:
Instruction, equipment and one dive
What You Achieve:
A real diving experience on the reef here in Roatan. With the Open Water 1 you'll receive training credit valid for one year. With both, you also qualify for additional non-certified dives with our dive center within fourteen days of your DSD.
*Pricing is subject to Honduran sales tax