The world's finest wilderness lies beneath the waves.
– Wyland
---
As the planet's largest ecosystem, the ocean sustains both life and livelihoods.
Reefs only cover .2% of the ocean floor, yet they are responsible for sustaining 25% of animal life on the planet and reducing 25% of the carbon emissions in our atmosphere. We can also credit $30 billion USD annually in goods, services, tourism and coastline protection to them. Despite this importance, they are under siege from disease, commercial development and other modern day destruction and environmental stressors.
We believe there is hope…
Being 'Always Eco-Active' is a core value of ours and a cornerstone of our everyday efforts here at Sun Divers.
Here are just a couple ways we're doing our part and that you can get involved while diving with us, leaving the reef here in Roatan even more beautiful than you found it!
---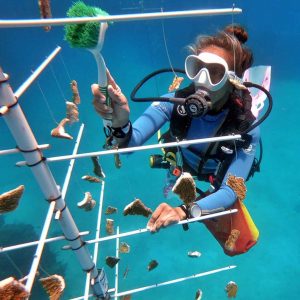 Coral Restoration Certified Dive Center
Coral coverage on the ocean floor is declining faster than coral colonies can recover from natural reproduction — and it's happening here on the Mesoamerican Reef in Roatan. But growing coral in nurseries and outplanting them on to the reef is one way that we can aid in the resilience and recovery of the reef. How so? Read more here.
We support the Roatan Marine Park's Coral Reef Restoration Program and we're looking for some coral warriors to become Ambassadors and help care for the coral nurseries, as well as assist in outplanting efforts.
---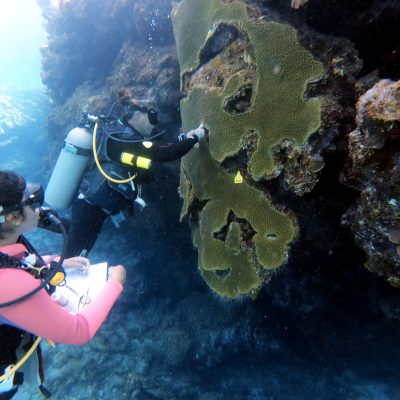 Dive Site Adoption & Stewardship
Sun Divers has adopted three dive sites along the Mesoamerican Reef in Roatan to which we have committed our stewardship: Blue Channel, Shallow Aquario and Saaya's. In collaboration with the Roatan Marine Park and the Bay Islands Conservation Agency, we hold bi-monthly Eco-dives to monitor these sites for Stony Coral Tissue Loss Disease (learn more about SCTLD here) and treat affected corals with the hopes of halting the disease progression and saving our precious coral colonies.