Deepen the Exploration
Exploring the depths of the ocean isn't just the stuff of legend and lore. And it doesn't have to be left to just the professionals. As a recreational diver, you can train to safely make no-decompression dives that let you experience the thrill of the deep blue sea. With the PADI Deep Diver Specialty, you'll expand your theoretical knowledge, as well as get hands-on training so that you learn to plan, organize and conduct deep dives. Having the proper certifications to deep dive expands the boundaries of where you can scuba dive and what you can see. When you take this course in Roatan, you'll get a chance to experience premier dive sites best seen at depth, including our famous wreck dives, drift dives and the Roatan Shark Dive. And you'll be one specialty closer to earning your Master Scuba Diver rating.
Why get your Deep Diver specialty?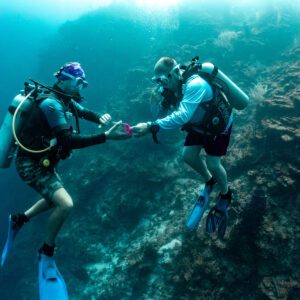 When you train to get the PADI Deep Diver Specialty, you're gaining the experience necessary to safely dive to recreational depth limits. In this specialty course you'll learn about:
Recreational and personal depth limits
Proper equipment for deep diving
How to manage your gas supply
How to identify and prevent nitrogen narcosis
Why get your PADI Deep Diver Specialty with Sun Divers Roatan?
Small group, personalized instruction with 4 students max per instructor (PADI standard allows for 8:1 ratio)
Experienced, PADI-certified instructors
Multilingual learning options including English, Spanish, French and other languages upon request
We offer flexible scheduling to work within your vacation plans!
You'll get a chance to visit advanced dive sites in Roatan
---
Price: $345 (discount provided with proof of Deep Adventure Dive)
Time Commitment: 3-4 Deep Dives
Sign Up Today »
What You'll Learn
You'll receive instruction and hands-on training that teaches you:
How to formulate your personal deep diving depth limit
Recommended guidelines for making deep dives, including drift and wall dives
Deep diving techniques including how to manage gas supply
How to identify symptoms, treatment and prevention of nitrogen narcosis and decompression sickness
Equipment recommended for deep diving, including basic guidelines for the use of all dive computers
What's Included:
Deep Diver specialty dives, instruction, certification processing and equipment
What You Achieve:
Deep Diver Specialty certification, improved dive ability & skills, hands on training to safely plan and conduct night dives. Counts toward one of five specialties required for Master Scuba Diver rating.
*Pricing is subject to Honduran sales tax