Dive into the night aquatic
If you find the ocean a mysterious and magical place in the day – just wait until you descend underwater during a night dive in Roatan. Watch the waters come alive with nocturnal animals and organism, normally taking cover in the day. See the reefs true colors unfiltered without sunlight. And add a new twist to your favorite day time dive sites. When you become a certified Night Diver, you will shine a light on a whole new dimension to your diving. And when get your Night Diver specialty in Roatan you'll be rewarded with the chance to see the enchanting String of Pearls, a bioilluminscent phenomenon rarely seen elsewhere in the world. Plus, you'll be one specialty closer to earning your Master Scuba Diver rating.
Why get your Night Diver Specialty certification?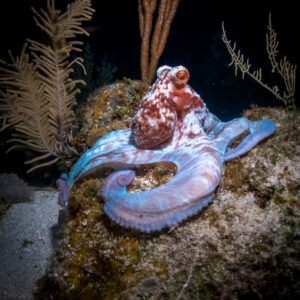 When you achieve the Night Diver Specialty certification, you will be trained to safely and confidently plan and conduct night dives. You will have an in-depth understanding of night diving environments, diving and communication techniques and equipment needs. Here's what you'll learn about when you achieve the PADI Night Diver Specialty certification:
Nocturnal marine life and behavior
Night dive equipment needs and maintenance
Underwater communication at night
How to select night dive sites
How to properly address special night dive situations
Why get your PADI Night Diver Specialty with Sun Divers Roatan?
While PADI allows up to 8 students per instructor for this course, we keep our groups small so you get personalized instruction (4 students max per instructor)
Experienced, PADI-certified instructors
Multilingual learning options including English, Spanish, French and other languages upon request
We offer flexible scheduling to work within your vacation plans! f
You'll get a chance to witness our uniqure nighttime creatures such as Caribbean Reef Octopus, String of Pearls, basket stars, lobsters, crabs and more.
---
Price: $265 (discount provided with proof of Night Adventure Dive)
Time Commitment: 2-3 Night Dives
Sign Up Today »
What You'll Learn
You'll receive instruction and hands on training that teaches you:
The appeal of night dives
What equipment is needed to night dive and how to properly use and maintain it
How to plan and conduct night dives
How to respond to special night diving situations
Night diving techniques and communication
What's Included:
Specialty dives, instruction, certification processing and equipment including torch
What You Achieve:
Specialty certification, improved dive ability & skills, hands on training to safely plan and conduct night dives. Counts toward one of five specialties required for Master Scuba Diver rating.
Requisites:
12 years or older, PADI Open Water, Junior Open Water or equivalent training. Must complete the PADI Continuing Education forms, including PADI Medical Questionnaire.
*Pricing is subject to Honduran sales tax