Roatan offers the best of Honduras scuba diving. And there's so much that makes it a true diver's paradise it's hard to know where to start. Maybe it's the fringing reef so close to shore providing access to an insane number of awesome dive sites. Perhaps, it's the diverse ecosystem of the Mesoamerican Barrier Reef teeming with life big and small. Or the crystal clear viz and warmth of Caribbean waters. Then there's the thrills you can find exploring wrecks, tackling swim throughs or just feeling small amidst vast underwater canyons. We could go on forever, but whatever experience draws you to explore scuba diving in Roatan, we're ready to take you there. Want to know more about where you should be scuba diving in Roatan, Honduras? See what sites our team considers the Top 10 Roatan Dive Sites.
---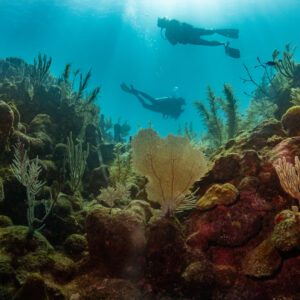 Wall Dives
Roatan is perhaps most famous for its wall diving. Vertical drop-offs offer some of the best visibility and variety of marine life. Giant sponges, sea plumes, deep water sea fans and black corals provide habitat for a wealth of creatures. Encounters with larger pelagics such as eagle rays, large jacks and even hammerhead sharks and manta rays are possible. The walls here start as shallow as 20 feet / 6 meters and drop to depths of 100 feet / 30 meters and beyond, making them accessible to divers of all levels.
Dive Tribe Faves: West End Wall, Cemetery Wall, Divemaster's Choice to Dixies, Mandy's Eel Garden
Pro Tip: Don't forget to turn your gaze into the blue to spot larger fish and pelagics. And also keep an eye on that depth gauge!
---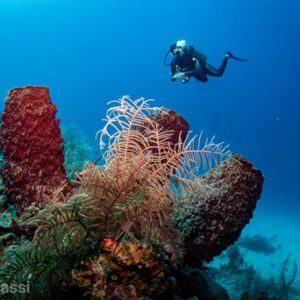 Drift Dives
Roatan is blessed with mild to moderate currents and calm surface conditions, making drift diving available to all divers. Our experienced team of boat captains and guides know exactly when and where to take you based upon local conditions to experience drift diving in Roatan to the fullest. Currents flow through key spots of the reef carrying plankton-rich waters that attract an abundance of marine life and keep the reefs healthy and vibrant. Go with the flow and experience the sensations of "soaring" underwater weightless surrounded by schools of fish as if raining from the sky.
Dive Tribe Faves: Pablo's Place, Texas, Lighthouse, Divemaster's Choice, Fish Den
Pro Tip: Try swimming out amongst schooling fish or just go with the flow. You can always turn against the current and kick to slow it down and wait for your group.
---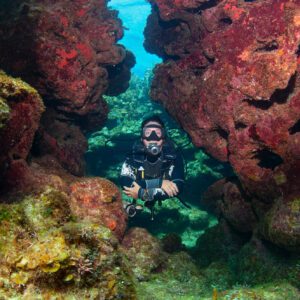 Canyons and Swim Thrus
If you love the feeling of emerging into the great blue from the inside of the reef or feeling small against large submersed canyon walls, do we have the dive sites for you. The fringing reef surrounding the island offers some of the most diverse topography for the most adventurous of divers. Overhangs, cracks, canyons, deep channels and ravines can be found on many Roatan dive sites, offering thrills as well as excellent places to spot shy species of fish and creatures such as spotted drum, eels, lobsters, crabs and shrimp. These dive spots can even be found in the shallows, making for great afternoon dives.
Dive Tribe Faves: Hole in the Wall, Blue Channel, Canyon Reef, Spooky Channel, Bears Den
Pro Tip: These dive sites are best enjoyed with good buoyancy…If you're looking to perfect yours consider taking a Peak Performance Buoyancy course to fine tune your skills and enjoy navigating these sites to the fullest.
---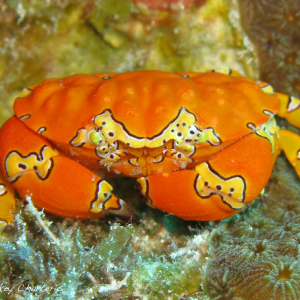 Macro Dives
While the Roatan reef is awe-inspiring at just first glance, there is so much more than meets the eye. Go slow, swim gently and gaze softly at one small area at a time and you'll be rewarded with a peek into a whole other underwater world that many divers miss. Some of the ocean's most weirdly wonderful creatures can be found on macro dives: colorful nudibranchs, majestic seahorses, inquisitive but shy small crustaceans and blennies as well as tiny juveniles. Many of our instructors have "magic eyes" and will share their finds with you, as well as educate you on how to spot these amazing creatures on your own. If you're a dive nerd like us who likes to learn about symbiotic relationships, territorial behaviors, hunting tactics and camouflage techniques – there's no better way to learn than to observe first hand amongst coral formations, around sponges and amidst the sea floor.
Dive Tribe Faves: Blue Channel, Butcher's Bank, Mandy's Eel Garden
Pro Tip: Go sloooooooow. Then look and look again. Also, learn the symbiotic relationships between creatures and their homes in and amongst anemones, sponges and corals.
---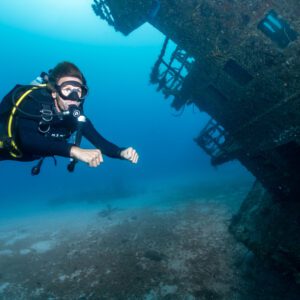 Wreck Dives
There's an indescribable intensity that comes with exploring relics lost to time and the sea, and Roatan wreck diving is no exception to that type of amazing experience. Roatan's wrecks are well located on both sides of the island so you can enjoy wreck diving here year round. They are all within recreational diving limits, resting on sandy bottoms and close to reef walls meaning you almost get three dive experiences in one.
El Aguila, Spanish for 'The Eagle,' is a 225-foot cargo ship that is believed to have originally sunk off the coast of Utila while carrying a large shipment of concrete to Haiti from Puerto Cortes. Intentionally salvaged and submerged in its current location in 1997, it sits near Sandy Bay and a short boat ride from our shore. It's a favorite due to the large amount of marine life around it, a healthy reef system right next to it and the fully intact mast that you can circle to see the life it's engulfed in.
Stats: 230 feet / 75 meters long sitting at a depth of 110 feet / 33 meters. Requires Advanced Open Water Certification or Deep/Wreck Adventure training.
The Odyssey was sunk in 2002 and is one of the Caribbean's largest intentional shipwrecks. A large superstructure makes for impressive viewing and large schooling fish, barracuda, grouper, tuna and the occasional shark can be found swimming amongst the wreck.
Stats: 300 feet long x 85 feet tall x 50 feet wide (91 meters long x 26 meters tall x 15 meters wide). Requires Advanced Open Water Certification or Deep/Wreck training. Nitrox recommended.
On the Southside, the soft coral adorned Prince Albert and Mr. Bud are both excellent for macro life lovers. They also both rest in shallower depths allowing for longer exploration.
Stats: Prince Albert is 140 feet/ 43 meters long at 65 feet / 20 meters. Mr. Bud is 75 feet / 23 meters long and sits at 60 feet / 18 meters.
---
Roatan Dive Site Map