When is the Best Time to Dive in Roatán?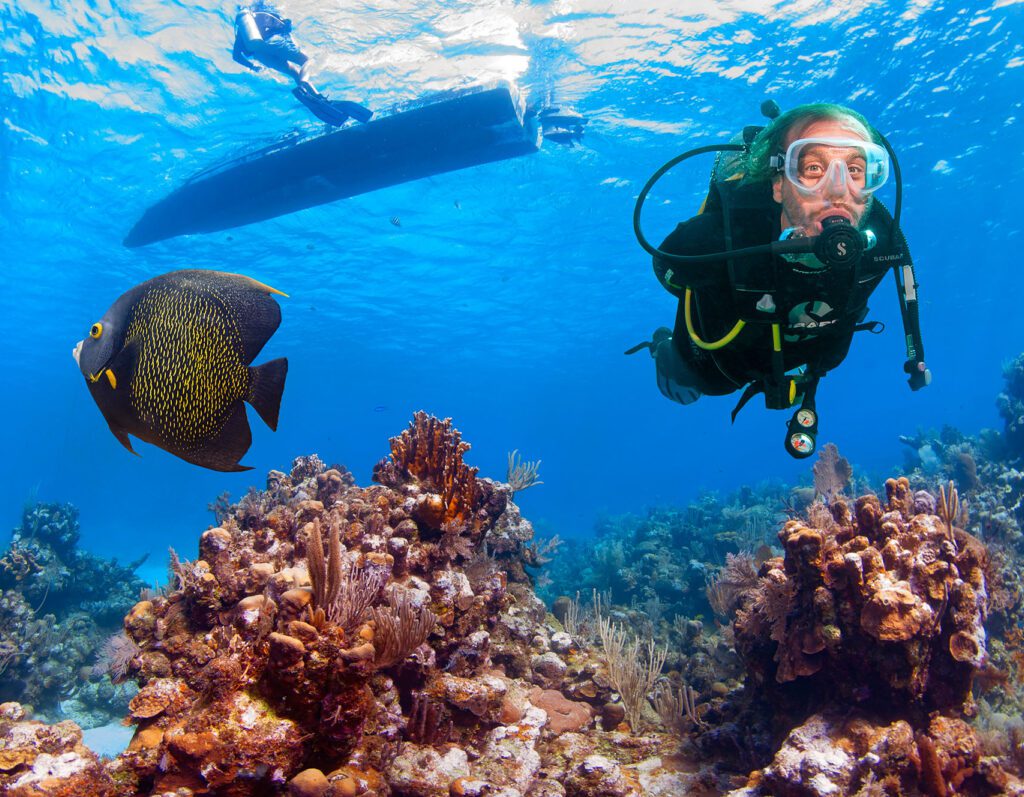 By KimL / June 19, 2023 /
Blogs
You probably think of Roatán as a great destination to escape the cold during snowy winters. And it is indeed a great place to enjoy the tropical weather of the Caribbean in the dead of winter. But, if you're coming here for the best diving experience possible, we'll let you in on a little secret: The summer is the best time to dive in Roatán. Our resident weather expert, Mike Andrews, has been updating weather reports on a daily basis for islanders and tourists alike through his Roatán Weather Facebook page and website. In this post, we'll share what diving is like year-round on our island. But we'll also give insights from Mike for those wishing to experience the most perfect conditions. Let's dive deeper into why summer is the best time to dive in Roatán.
Dive in calm summer waters and explore the best sites
Many great dive sites, including most of our favorite spots, are on the west end of Roatán along the northern shore. And just minutes away from our dive shop by boat. The key to good diving conditions in Roatán is calm and clear waters. On the Northside, conditions can remain calm even when the predominant eastern winds blow. This allows for great visibility and easy navigation. We all love it when we don't have to fight choppy surface waters and can spot that Eagle Ray from 100 feet away. 
Weather expert Mike is a dive enthusiast himself and says, "The greatest conditions for diving are during the summer when the island is mostly free from cold fronts and from wind patterns that can disrupt the waters." Low winds and calm seas during the summer also give us more opportunities to explore remote dive sites on Roatán's east end. And also make day trips to the outer islands like Cayos Cochinos possible. While these special day trips can occur year-round, the probability of them happening are higher in the summertime. An extra bonus is that this amazing time of year is considered "low season" on the island. Meaning fewer people and usually lower rates on accommodations and flights. That's just a few reasons why summer is the best time to dive in Roatán.
Year-round diving in Roatán
The winter months from December to February are the busiest time on the island. During the winter, Roatán can experience periods of strong northern winds up to 35mph/56kmh that push against the Northside of the island. This can potentially lead to murkier and choppier waters on the Northside of the island where we typically dive. We're not ones to miss an opportunity to dive, so when weather affects conditions on the Northside, we opt to dive on the Southside. See how 'Southside Days' allow us to dive all year in Roatán. 
The bottom line is that even if summer is the best time to dive in Roatán, you can find great diving year-round in Roatán. Conditions and weather will be more variable during the winter months, but that doesn't mean that the diving isn't spectacular. Here are more details on what Roatán weather and diving look like throughout the year.
Seasonal Guide to Roatán Weather & Diving Conditions 
The summer months offer the best diving conditions in Roatán. But each season has its own unique features that divers might enjoy. Here are some highlights:
A little winter breeze | Roatán diving October – February
The temperature in Roatán averages 86°F/29°C year round. Winter averages are lower at  78°F/26°C with the lowest recorded temps at 66°F/ 19°C. During the winter months of October through February, the island can also feel cooler due to breezier weather.  
This by no means requires you to bring your scarf or skiing socks. Days are balmy and skies are usually blue. But, you might not warm up as quickly in between dives. And the waters are slightly cooler at an average of 80°F/ 26°C. So we recommend that you add some additional exposure protection. If you're one to get cold easily, be sure to wear a full 3mm suit and possibly add a hooded vest. If you usually dive as au naturel as possible – consider just a vest, long sleeve shark skin, or 3mm shorty. 
During the winter, the winds can also bring rain fronts. When this happens, we choose dive sites that allow us to avoid areas where there might be runoff. But don't let the misnomer "rainy season" deter you. We're on a tropical island so rain is inevitable, but it usually comes and goes quickly and it's very rare that we can't find a good spot to dive, rain or shine.
The cool & calm spring | Roatán diving March – June
Weather in Roatán continues to be variable in the spring which is the driest season of the year. But generally winds, albeit high, stick to their predominant easterly direction. This keeps dive conditions calm and above-water temperatures comfortable. Waters start to warm up a couple of degrees and most people start to shed their full wetsuits opting for shorties or rash guards. 
While the east winds during this time create ideal diving conditions on the Northside, the Southside of the island can experience waves up to 6 feet high due to the trade winds picking up. This time is perfect for diving on the Northside, but it can be more difficult to dive the Southside due to choppiness.
A hot summer with a Silver Lining | Roatán diving July – September
The island warms up from July to September with low winds and temperatures averaging 84°F/29°C. The water also warms to an incredibly comfortable 84°F/29°C. Low winds mean ultra-calm waters and crystal clear conditions. This is when Roatán's diving really shines. And when we can adventure more beyond our normal dive sites. 
A natural spectacle also takes place during this time of the year. Divers that visit the island can witness the arrival of Silversides, tiny fish that migrate to the island during this time. This incredible play of nature will keep you absolutely mesmerized and wanting to find every silverside-filled swim-through possible. This makes summer the best time to come dive in Roatán!

Check out our blog post about the Spell of the Silversides here.
When is hurricane season in Roatán?
October is the peak of hurricane season in most of the Caribbean, but Roatán is rarely hit directly by major storms. Hurricanes in Roatán are incredibly rare. We're lucky to be protected by the landmass of Central America. This soothes most storms before they reach the island. But if a hurricane ever makes its way through Central America, the outer bands of the storms can touch the island bringing high winds and rain. 
Planning your next dive adventure
True diving enthusiasts will welcome the great diving conditions in the summer. But don't be swayed by assumptions about winter weather, the "rainy season" or hot summers. It's true that summer is the best time to dive in Roatán, as Mike our weather expert suggests. But having the flexibility to dive both the North and Southside of the island, usually means we can have great dives, regardless of which way the wind blows. 
So pack your dive gear, book your trip, and get ready to explore the scuba diving wonders of Roatán. And let us help you plan the perfect dive trip any time of year.