Small groups, big adventures
Roatan is consistently rated as one of the world's best diving destinations and we curate your experience to guarantee some of the most exciting underwater explorations of your life.
---
Concierge dive service means the moment you arrive your equipment is already assembled on the boat, your wetsuit and fins staged for your pick up and organic, fair trade certified locally grown coffee or water are available for you to help yourself to. Tropical fresh fruit and water are on the boats – and on cooler days, you'll even find hot coffee and fresh baked goods aboard. Instructors and captains alike are available to assist you with gear, water entry and exit as needed. Post dive, we disassemble, rinse and dry your equipment with care. And we offer personal lockers with complimentary padlock and key for you to store your belongings worry-free while you're out adventuring.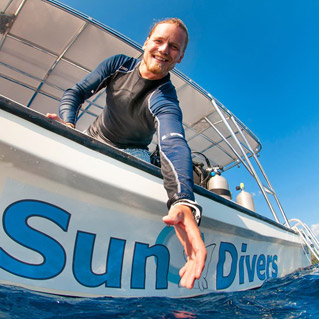 Small group diving that pairs divers with similar skills and interests, allows us to guide at separate depth profiles regardless if we have both experienced and beginner divers on the boats. Dive times average 60 minutes and most sites allow buddy teams to ascend independently so that differences in air consumption don't affect the whole group.
Optimized dive site selection is made each morning taking into account sea conditions, divers' interests and which sites have already been previously visited. You can spend a week or more without seeing the same site – unless you really want to, since we always take requests and do our best to accommodate.
Our ideal location on the leeward (northwest) side of the island protects us from the prevailing southeast winds for the majority of the year. Calm, flat seas tend to be the norm which lends to idyllic diving conditions. And, if the weather patterns do shift to make the south side a more desirable diving location, you're in luck because we're one of the few operators to have dock space on both sides of the island. You'll never miss a dive or experience unfavorable surface conditions during your trip.
---
Daily Dive Schedule
8:30 a.m. Two-Tank Trips depart earlier than most to make sure we get first dibs on our desired dive sites and ensure you have a proper surface interval / lunch break if you are diving in the afternoon.
2:15 p.m. One-Tank Trips allow you to add a third day to your dive — or to sleep in, sight see or check in at work before you go for a little afternoon bubbling.
Night Dives are available any day of the week when we have four or more interested divers. Do you know about the String of Pearls? Read more about this incredible night dive phenomenon.
Want to do something even more extraordinary? See what unique dive experiences we offer.