August, 2021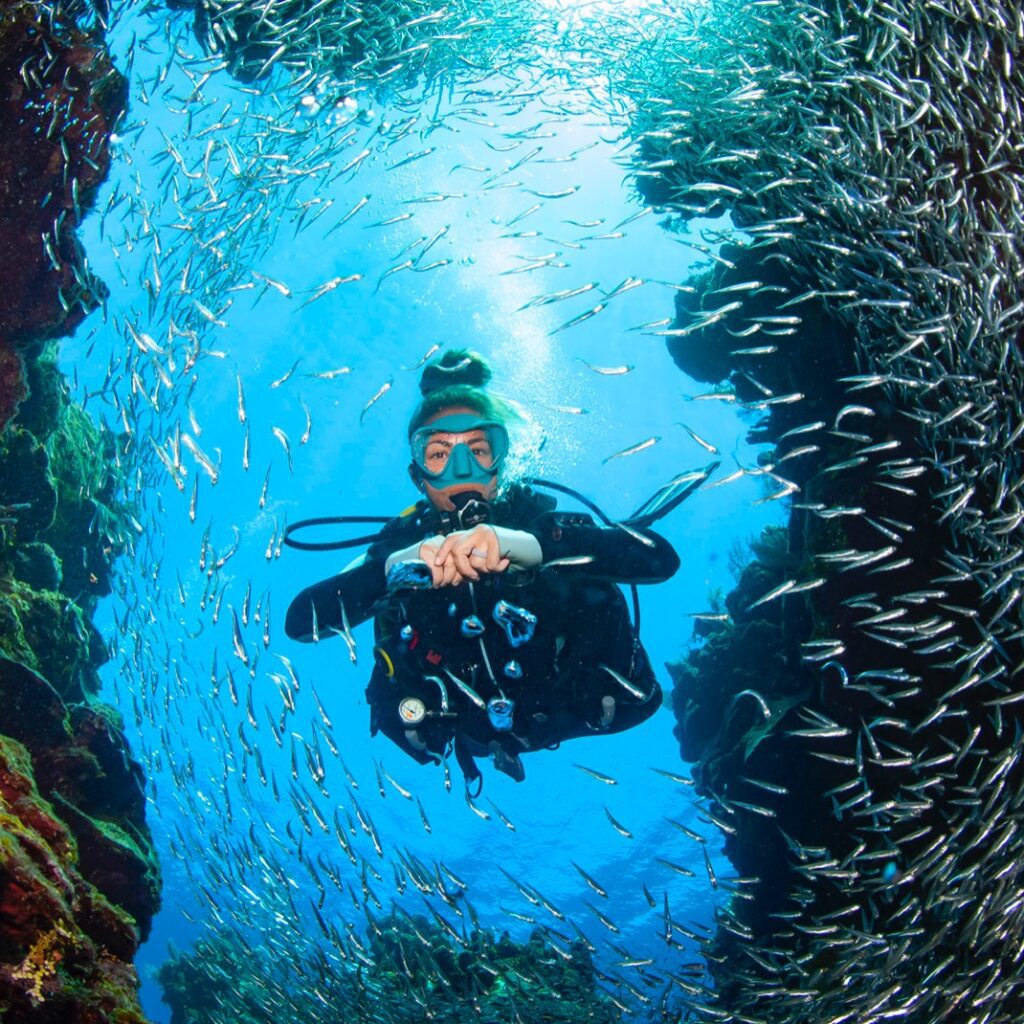 By Sun Divers Roatan / August 21, 2021 /
Blogs
Roatan offers such an amazing variety of dive sites that are accessible all year. Each site has its own unique features from towering walls, steady drifts, and deep caverns… often, all three and more.
But, during brief windows of time, some of the sites are punctuated with a once-a-year bonus. During the month of August, we experience one of the coolest phenomena: the spawning of Silversides.
What's so cool about Silversides?
Silversides by themselves are an inconspicuous fish about two inches long with a white-silvery sheen. However, during their annual spawning, the silversides will form massive schools in sheltered areas of the reefs. They will take up residence in some of the many swim throughs and caverns prolific around Roatan.
This experience can be mind-blowing to divers.  Imagine entering a swim through…The rays of sun light fight through the many cracks and holes creating lustrous streaks that reflect off the bottom.  As you get further into the cavern you begin to see the streaks of sun broken up by flashes of light in every direction.  Soon, you are surrounded by a mesmerizing light show as the schooling silversides surround you. They simultaneously block the light from above and reflect it in constantly evolving patterns.  As you swim through the school, the fish will open up a small tunnel while still flashing their disorienting shapes.
The ever-evolving synchronized movements combined with the flashes of light have engulfed you in their spell.  Before you know it, you have spent twenty minutes in one place – losing all sense of up, down, forwards, and backwards – but you are loving every second of it.
Why do Silversides just appear?
Scientifically speaking, the silversides are here for a reason.  Millions of the Atlantic silversides will swell together for their annual spawning May-July.  About five to 20 days later, newborns are hatched in what is called "broadcast spawning". They travel in massive swells of schools as a form of protection and fill many nooks and crannies of the Mesoamerican reef for refuge.  The silversides will feed on fish larvae, eggs, and zooplankton. Each fish is about two inches long, but the schools can feel like they go on forever. Their lifespan, unfortunately is much shorter. They can live up to two years, but many live for one as they also serve as a primary prey from larger fish and squid on the reef.
Where can I find schools of Silversides?
Some of the most popular spots for silversides include Blue Channel, Dolphin Den, Mary's Place, Spooky Channel and more. But the schools can materialize overnight in any of the many caverns around the island.
Want the Silversides to put a spell on you?
Sun Divers will make sure to include these sites in your itinerary during your stay in August.
Contact us to plan your trip today.