November, 2021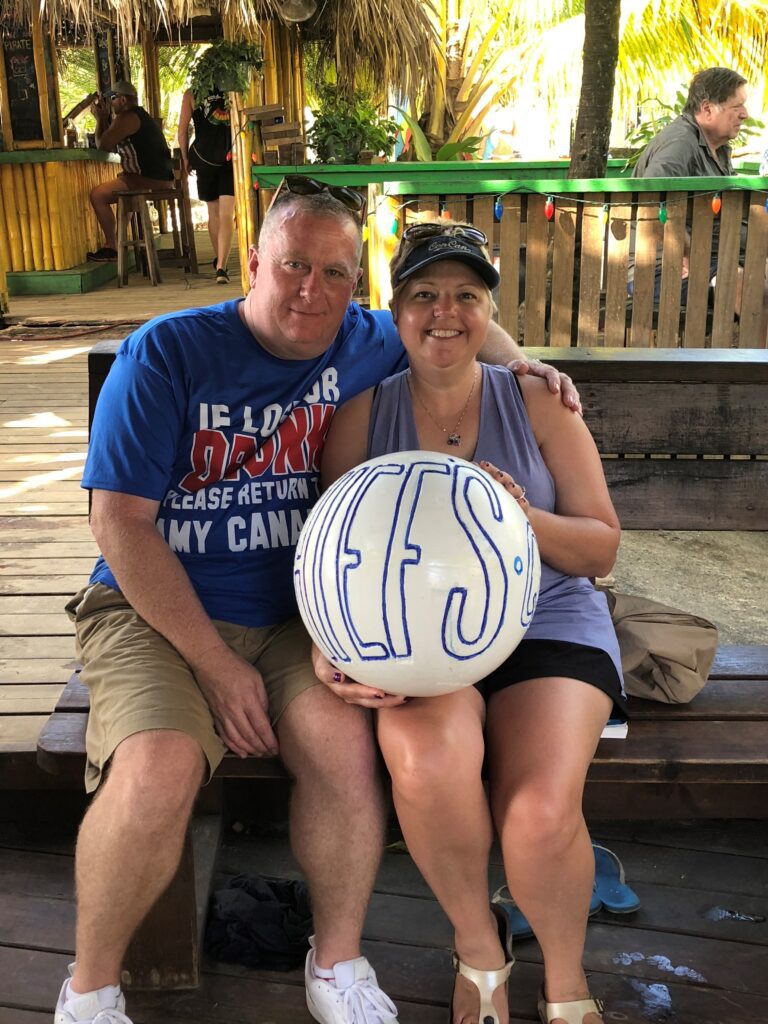 By Sun Divers Roatan / November 23, 2021 /
Blogs
The Chief's Quarters is more than just a dive site on a map. It's a remembrance of a great man who was a medaled Navy officer and lover of the sea. It's also a site that is a training ground for new scuba lovers, an exploration ground for experienced divers and the birth site of many new coral colonies as the designated out planting site of the Roatan Marine Park Coral Restoration program. Here's what makes The Chief's Quarters special to Roatan and to the people who dedicated it to our dive community.  
How The Chief's Quarters came to be  
Like so many of us, Roatan is Dave & Amy Canaan's happy place. When they decided to make Christmas gifts more about experiences than presents, their daughter Madison chose for the family to get Open Water certified in Roatan. Now its their home away from home; where they've made many happy family memories and have connected with many newfound friends! And come 2022, Roatan will become their actual home – just to give you a sense of how much they love this place!  
And while they've been fortunate to share this happy place with many friends & family, the one person they never got to share it with was Dave's dad, Richard Canaan – the very person who inspired Dave's love for the ocean. 
So, while Dave and his family couldn't share Roatan with Richard in life, he decided they'd share it in spirit. On February 23, 2018, the Canaan family dedicated the site to his father through the Roatan Marine Park's Name a Dive Site program.   
The Name a Dive Site program offers people a way to demonstrate their commitment to Roatan's community while honoring loved ones. It also supports the RMP Marine Infrastructure Program funding the installation of mooring lines that help increase diver access to the Mesoamerican Reef in Roatan, while decreasing mechanical damage to the reef caused by anchoring.  
The dedication of the site included the installation of a plaque that sits at the base of the mooring line reading "…may you experience fair winds and following seas." According to the Department of Navy – Navy Historical Center: ""Fair Winds and Following Seas" is really two quotes originating from different sources. The two quotes are a nautical phrase of good luck–a blessing as it were–as the person, group, or thing it is said to departs on a voyage in life." 
Over the years, Dave and Amy have shared the site with many of Richard's loved ones including a group of 49 friends and family members who took a cruise to Roatan and were able to snorkel and dive the site. Recently, Dave's sister Wendy did her Discover Scuba Diving experience, getting to connect with the memory of her dad and the ocean that he loved from the beautiful depths below. She's now on her way to becoming Open Water certified.  
Meet 'The Chief'
Richard Canaan was a husband, father, grandfather, brother and friend. He was also a diehard Kansas City Chiefs fan and a Navy man, earning the patriarch of the Canaan family the nickname and title of 'The Chief.'   
The Chief who dedicated 22 years of his life to the U.S. Navy and then another 22 years in the Civil Service, was stationed in Japan, Norfolk, VA., San Diego and Port Hueneme Calif., and Jacksonville, FL.  
One of Dave's fondest memories is flying to Hawaii as a young boy (twice) and sailing on the Navy ships with his father back to San Diego.  
Richard was always a proud Navy man who would stop and talk to any other fellow Navy man regardless if it was a grizzled old vet like himself or someone newly enlisted.  He could always be seen wearing a navy hat from one of his service stations or drinking coffee from a cup emblazoned with a ship on which he had served.  Right up to the day that he lost the fight with Alzheimer's he was always Navy proud. He might not have remembered everything he did for his family, friends, and Country, but we will never forget. 
Why we love The Chief's Quarters 
We like to say we're more than a dive center, we're a community center for diving fanatics. And Amy and Dave have been a longtime part of that community, fun diving many times a year and supporting our team from afar when the pandemic had put a halt on the fun.  
Over the years they have become as much a part of our family as we've been of theirs. And the Sun Divers team has been honored to get to be there for so many fond memories, including those that have happened at The Chief's Quarters. Which is why the site means a lot to us.  
But "Chief's" as we call it, is a Roatan dive site that means a lot to the whole community. That's because Chief's Quarters is a dive site that's perfect for everyone: snorkelers, new divers and experienced divers. The mooring line sits on a sand patch at 20 feet which offers an expansive area for instructors and students to perform Open Water and Advanced Open Water skills, and at night it becomes the perfect place for divers to safely shut off their lights and become bewitched by the bioluminescence phenomenon The String of Pearls.  
From there it gives way to long and slowly descending plateau at 40-50 feet, and then the wall that drops to 120 feet before it hits another sandy decline. It's a common area to spot both Hawksbill and Green Turtles.  
And its memorial plaque is diligently protected by Threespot Damselfish. Like a good mate, he'll dash out and squawk at you for even laying so much as a finger on The Chief's plaque.  It's always hard not to LOL underwater at the fishes' hyper territorial protectiveness. Dave and Amy are convinced there is a little bit of the "Chief" in that fish who can be a bit ornery! 
The Chief's Quarters is also an important site for the future of the Mesoamerican Reef. It is the designated out planting site for The RMP Coral Restoration Program since it meets the optimal depth requirements for Elkhorn and Staghorn.  Since June 2020, restoration efforts have yielded out-planting of 340+ fragments.  
In September 2021, Amy decided she would become a certified Coral Ambassador. She was excited about the opportunity to leave the Roatan reef a bit more beautiful (and healthier) than she found it, but she was ecstatic when she learned that the very place these activities would happen was the site dedicated to her father-in-law.  
Want to check out The Chief's Quarters for yourself? 
Contact us to plan your next diving trip in Roatan. "Chief's" as we call it will likely be one of the many spectacular Roatan dive sites you have the chance to explore.  
Want your own dive site? 
Interested in memorializing someone you love – or just your love for Roatan and diving? Consider supporting the Roatan Marine Park's Name a Dive Site program. You can find more details here.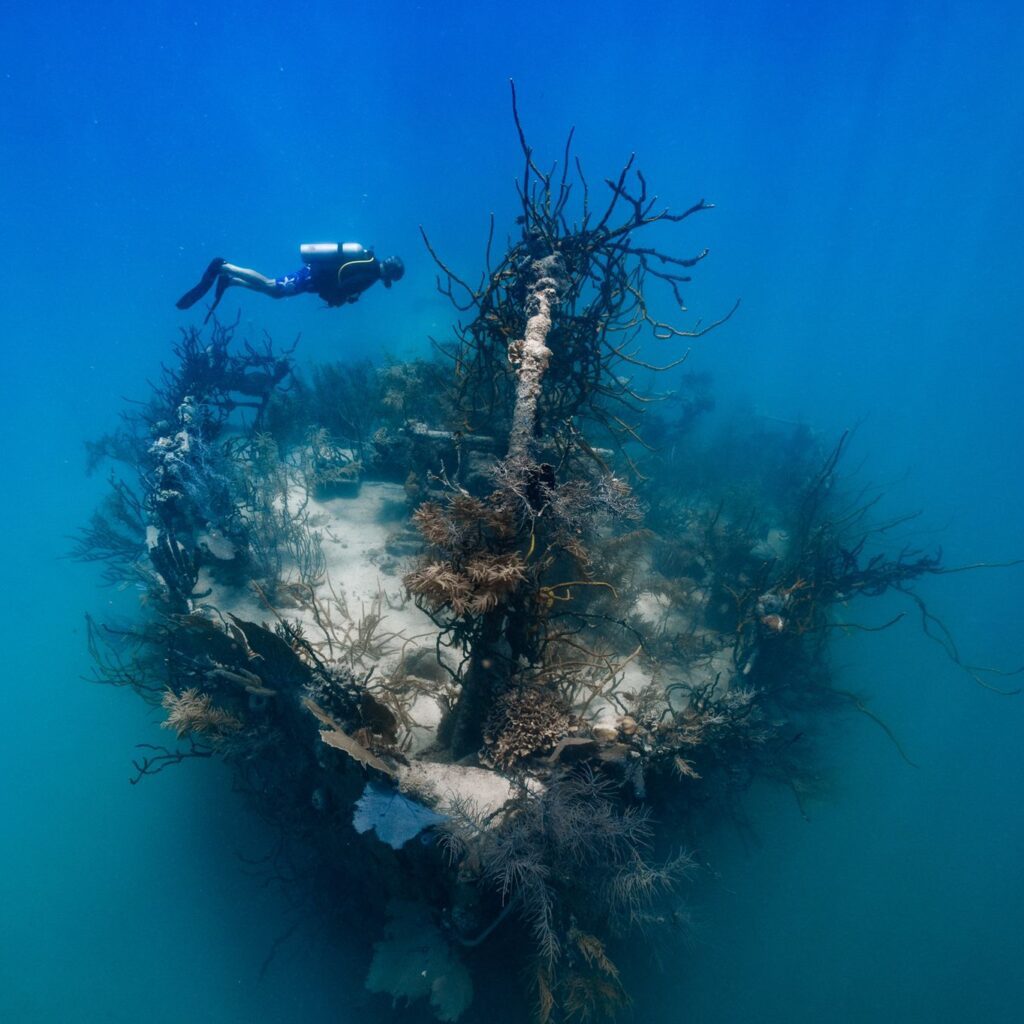 Whether you are traveling to Roatan for the first time or are a regular visitor, you can always assume the tropical weather will throw some curveballs during your vacation. That's just the small price we pay to enjoy the pristine beauty of a remote island in the Caribbean.  
People often ask, "will rain effect our dive trip?" Or they see high winds and high seas in the forecast and automatically assume the weather is going to prevent them from diving.  
Will Weather Affect My Diving in Roatan? 
The short answer is "No." And this answer is right about 99% of the time. The long answer is this: 
There are always exceptions, but with "rainy season" actually comes unique diving opportunities when you're diving in Roatan. Before looking into those specifics, let us take a step back and explore how the weather impacts the island. 
Wind Matters Most 
Roatan is shaped a bit like a sideways banana, running 48 miles long / 77km from southwest to northeast. What direction winds are traveling in, their strength and how they hit the contour of the island are the biggest variable in perfect dive conditions on Roatan.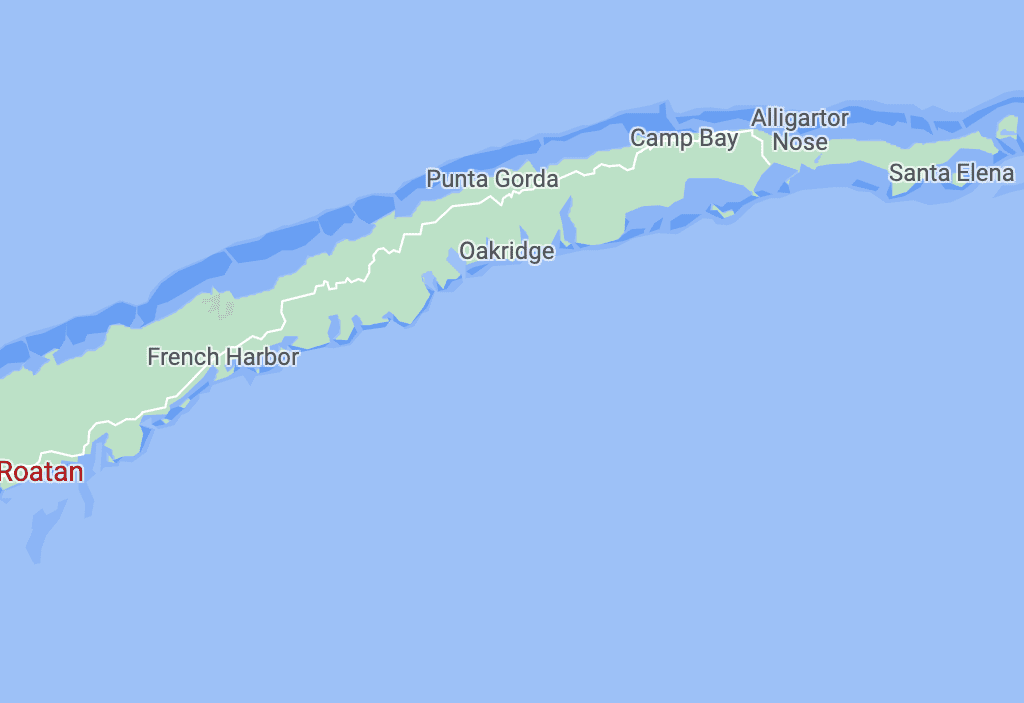 For the majority of the year, trade winds cross the island from east to west. This makes the Eastern and Southern side of the island very rough. Conversely, the mountainous island impedes the wind resulting in flat calm seas on the Western edge and Northside of the island. 
Fortunately, Sun Divers is perfectly situated on the western coast of the island on one of the Caribbean's most idyllic spots on the beach in Half Moon Bay. The low wind and calm seas create the perfect conditions for diving in crystal clear water. 
However, during the rare days when the wind shifts directions and makes western Roatan rough, there is a major silver lining: The Southside becomes calm.   
In some rare moments, the winds will come from the southeast, and these are the days when conditions on either side of the island have to be monitored for safe diving. But these days are the rarest of them all.
How We Monitor Weather 
Ensuring that we select the right side to dive on and the right sites to take you to is a matter of both safety and enjoyment. So, we take it seriously.  
We use multiple weather forecast resources, including Windfinder, Windy, Weather Underground and the helpful local forecast from Roatan Weather.  
It's not secret that weather forecasts are well….semi-reliable at best (insert bad joke about weathermen), so we also assess conditions in real time with team members making early morning drives over to the Southside to verify wind and wave conditions for that morning.  
Calls regarding weather's influence on diving are made based upon insights from these resources, as well as the experience of our boat captains and dive instructors who have an almost innate sense when it comes to reading local weather conditions. 
We also continuously monitor the weather, even when you're underwater blowing happy bubbles, so that we can be prepared to adjust our plans for the next dives if needed.  
You can always rest assured that we've got you covered when it comes to selecting optimal dive conditions.  
The big debate: Southside vs. Northside
When we head south, we call this a: "Southside Day."  
Instead of leaving from the beach behind the shop, we take the boats to our dock on the Southside and transport all of our customers via luxury bus. The ride takes no more than seven minutes. 
When divers hear this plan, the immediate next question is: "Is diving on the Southside as good as the North?"  
The short answer here is "Yes!" The long answer is:  
There isn't one side that's better than the other. They're equally fantastic, yet different.  
The Southside is considered "more dramatic" with a shallow and short plateau giving way quickly to sheer walls. The south is also known for having more soft coral that delicately sway creating the illusion of an underwater garden.  And Southside days give us the opportunity to explore uniquely captivating sites such as Keyhole, Blue Cave, the Prince Albert wreck, and the iconic Mary's Place. 
In contrast, the Northside has a gently sloping plateau ranging from 15 to 60 feet that then gives way to a wall drop off. The water on this side tends to be more nutrient dense, making this side of the island "fishier," teeming with schools of fish as well as larger predatory fish. On some sites, you can cruise across the plateau for more than 10 minutes before you hit the wall, and there are many sites with sandy shallows that make for fun macro critter hunting in the sand and amongst coral heads. 
Regardless of which side you're on, there's always adventure and exploration waiting for you.  
And you can rest assured that a rainy day will not dampen the dive trip you have planned for months. So what are you waiting for? Book that next dive trip!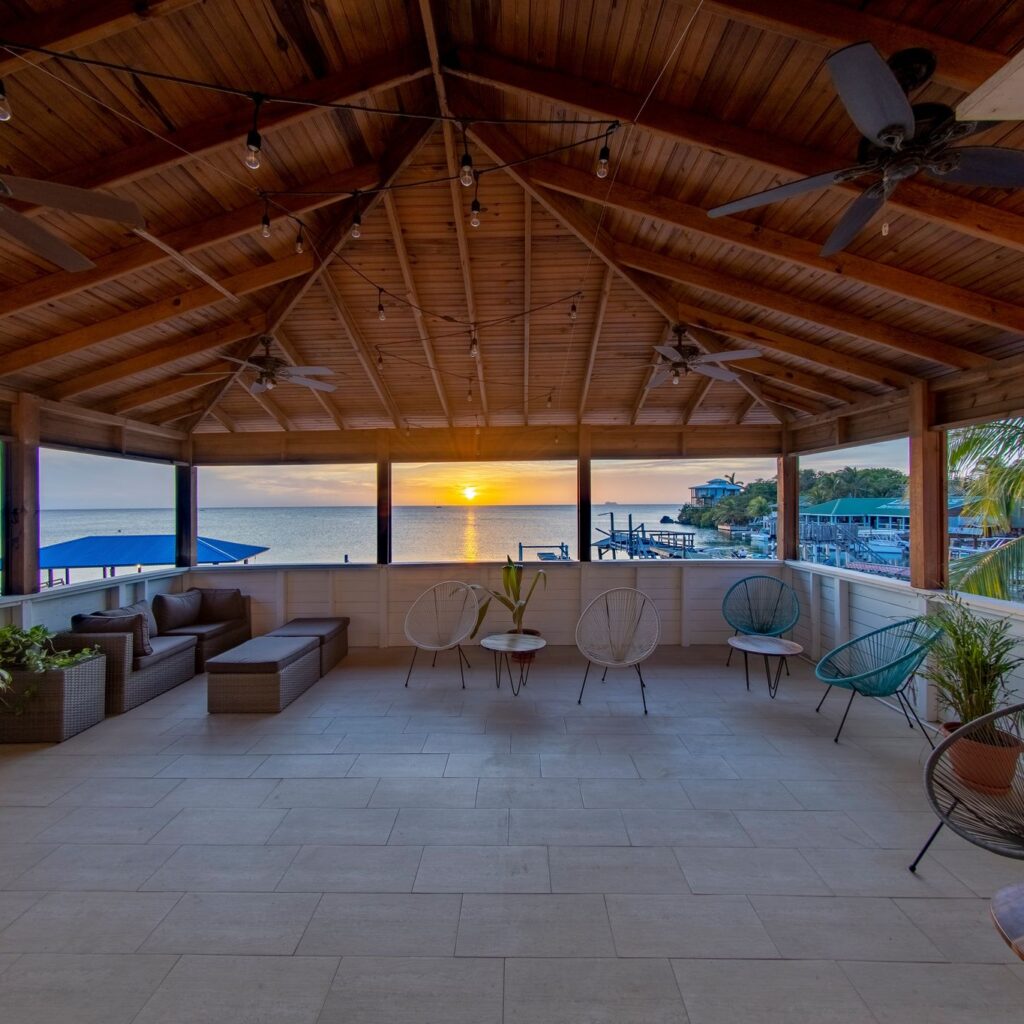 Working remote in Roatan is totally possible. Find your work-dive balance as a digital nomad in one of the Caribbean's top dive destinations.
This is NOT a sponsored blog. Just us sharing our opinion! 
Hi, my name is Shannon, and I am a recovering workaholic.  
As dreams go, in my opinion, I have hit the jackpot: Along with my wife, I own an amazing dive shop on a tropical beach on the island of Roatan. This dream has been in the works for decades and finally came true this year. While our story has interested and even inspired people, I would be the first to admit that the leap we took is not for everyone.  
The reality is not everyone is ready, willing or able to step away from lifelong careers to pursue a less stressful existence. Luckily, these days you don't have to. There are ways to work hard and still have enough hours in the day to do things that recharge you (like diving). It is possible to feel like you're working to live, and not the other way around.
How you can find work-dive balance
While the COVID-19 pandemic turned everyone's world upside down, it taught many companies and individuals that entire teams don't need to be tethered to a physical office to keep business running.  
Enter the age of the digital nomad. Digital nomads are defined as freelancers, entrepreneurs, or employees with flexible bosses who need only a laptop to work from wherever they want. And they want to work from somewhere with a good quality of life….usually in a remote or international location. 
There are many benefits of a remote work culture. Increased job (and life) satisfaction, productivity and balance, and decreased overhead costs, and carbon footprints with a reduction in commutes. 
The trends toward more remote working were already steadily increasing, even before COVID struck. Now that COVID has a firm grip on every aspect of our work culture, it is estimated that 70% of employees will be remote by 2025. 
Now that I've given you plenty of ammunition to successfully ask your boss to make this big change, we can focus on the fun part:  
Deciding where to work remote
You've decided to make remote work a new part of your lifestyle. Now you need to decide on where you would like to work from. The beauty is that you don't have to choose just one place forever – hence the nomad part of this. You can move as often as you want, and as often as your pocketbook (or boss) will allow. But wherever you choose to satisfy your wanderlust, it needs good internet, reliable services (power, water, and cell towers), access to stores for groceries & household goods, and a reasonable cost of living. 
Allow me to introduce you to Roatan!
Roatan is an island about 40 miles off the northern coast of Honduras. It is 47 miles long and no more than 5 miles wide, yet the largest of the Bay Islands, and surrounded by some of the most spectacular Caribbean blue water you have ever seen.  It's also fringed by the world's second largest barrier reef: the Mesoamerican Barrier Reef. If you are into diving, snorkeling, kite surfing, or just relaxing on the beach… there is an endless number of things to do and see. The island is atop an ancient reef and it is mostly tropical, untouched jungle. It's still relatively less commercialized than most island locations, making it still a hidden Caribbean gem. But the island is having its moment as seen on The Today Show, Fodder's and Conde Nast. And there's no better time than the present to experience it.  
Why Roatan is Great for Digital Nomads
Before my work attire completely switched from business suits to bathing suits, I worked remotely here in Roatan. I experienced firsthand whether you can be reliably connected with a demanding job or not.  Spoiler alert: you can! Here's what I think makes Roatan great for digital nomads: 
Reliable Wifi
Are you side-barring on slack, while trying to maintain enough eye contact with your everyone in your zoom room to look interested in Q4 planning, but also wanting to sneak a peek at your phone and see how many people liked your last Instagram reel? While the speed in Roatan's high speed network is maybe more akin to a station wagon than a Ferrari, it is consistently reliable. Fiber internet is now available on the island and many rental homeowners are making the upgrade. My personal speed tests with MAX show that typical download speeds are around 10mb, and while that's snail-like compared to your Google Fiber it's enough to make sure you can share your screen and come in loud in clear when it's your turn to hit present. Sure, you may have to limit the number of internet-based applications you're running at a single time, but multi-tasking isn't good for you anyways.  
Reliable Utilities
As important as reliable internet is reliable electrical power, cell service and even water and gas. While the other Bay Islands deal with almost daily power outages, Roatan's are very infrequent these days and almost always scheduled with advanced notice. Sure, you'll get the random car crash or fallen tree that takes out a power line – but those instances are rare. Likewise, you see few interruptions in cell service or water and gas delivery (both of which happen by trucks that make daily rounds through the neighborhoods.) Now this isn't to say that it never happens. Remember, you are living on a remote island. But it happens less often than you would expect.
Coworking and Coffee Shops Galore
While we don't have a Starbucks on every corner, we have a surprising number of hip coffee shops and cafes with tons of character, excellent local java   to help keep the creativity flowing and a nice work ambience. We still break away to the coffee shop when we need to focus on big projects for the dive shop and Bean Crazy, Café 314 and Café de Palo are just a few of our favorites. If you want to start Fri-yay a little early or have to clock some hours over the weekend, the Roatan Island Brewing Co. is one of the best spots to meet that project deadline, celebratory microbrew in hand.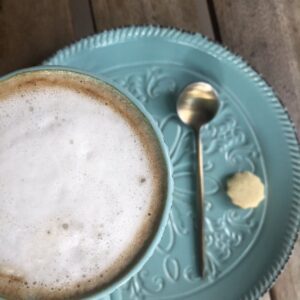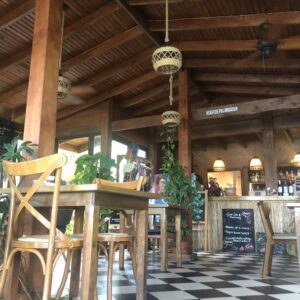 Super chic coffeehouse vibes, a cool ocean breeze and killer lattes make Café de Palo a personal favorite.
Don't want the coffee grinder interrupting you team meeting? Or maybe you need to feel like your "going to the office" to really be productive. While life does progress a bit slower here, we're way ahead of the curve when it comes to co-working spaces. Right in the heart of West End, is a brand new, modern coworking space called Beach Desk. It has all the common amenities of coworking spaces (fully equipped work stations with monitors, keyboards and mouses to connect to your laptop, private phone cabins, meeting rooms and conference/event space) with the added bonus of an inspiring view from their terrace right above the water. They also have a backup generator so not even the scheduled power outages can be an inconvenience and they are expanding the space to include private offices soon.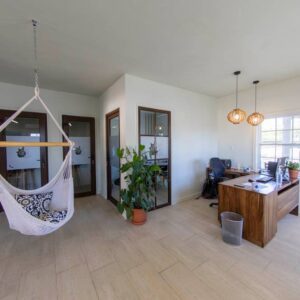 .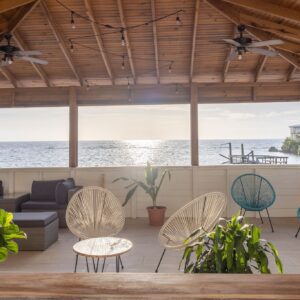 At beach desk, everyone has an office with a view.
Proximity to Nature
Think back to a time you felt happy, relaxed, recharged. You were probably somewhere in nature. And if you're like the majority of people, you were probably by the blissing out by the ocean. While most must take the coveted three-day weekend to make a break for their happy place, when you live in paradise you can get there before your boss even has the chance to hit send on their "sorry to bother you after hours" email. In fact, you'll be so close to your happy place that you can easily block off a "productivity pod" to recharge with a session of sun yoga, a swim in the bay or an afternoon or night dive.  
In addition to these important remote work amenities, Roatan also has a number of local gym facilities, spas, fantastic restaurants of every persuasion (you can even find Pho here!) grocery stores stocked with your favorite brands (albeit for a bit more money since their imported) and local fruit markets, seafood vendors, as well as super affordable local food joints for the adventurous eaters. 
What are you waiting for? 
If diving is how you want to spend your free time, you can learn more about what makes Roatan one of the best diving locations in the world, as well as our curated yet casual approach to adventuring on the MesoAmerican Barrier Reef. You can also feel free to reach out to us at [email protected].