Topic: About Roatan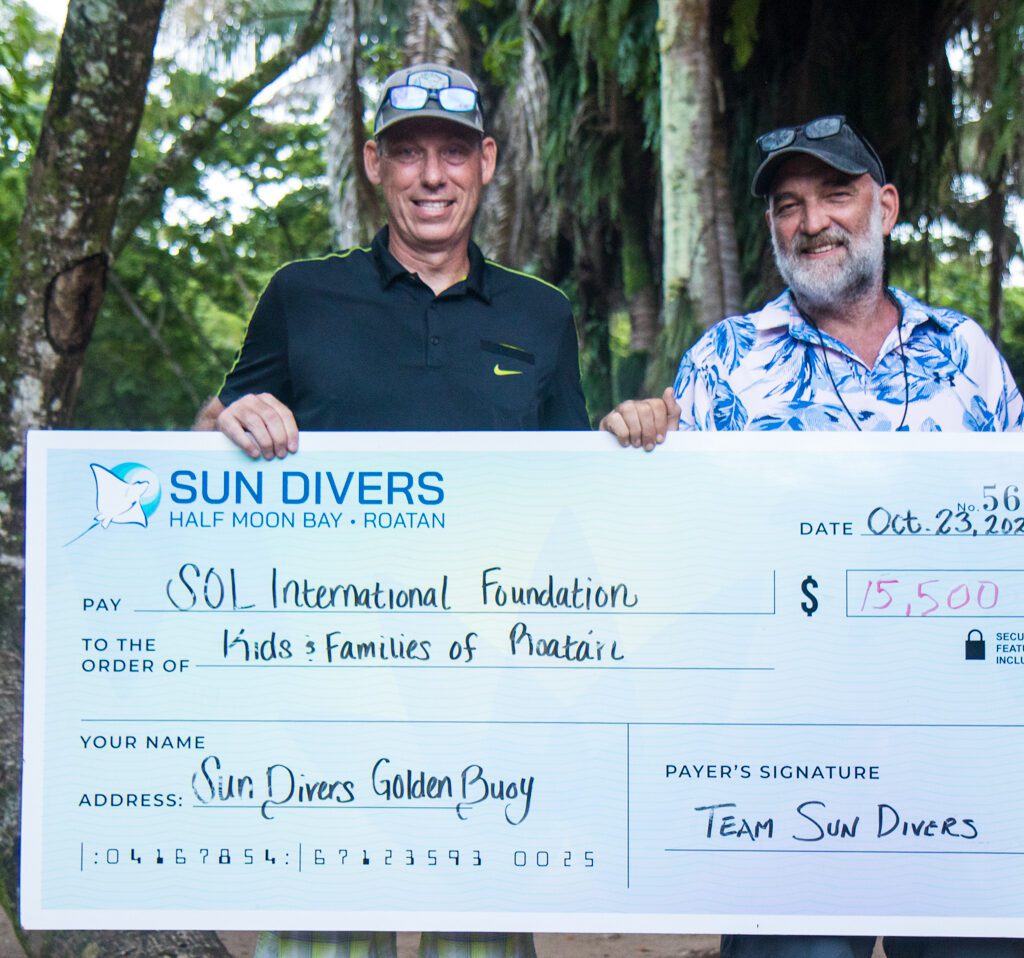 The 6th Annual Sun Divers Charity Golf Tournament started in the way no golf tournament should start: with a downpour. But the clouds parted and skies cleared, making it an exceptionally beautiful day for golf. And nonetheless, Team Sun Divers managed to still "make it rain" in the best way for the SOL International Foundation.
The tournament, held on October 23, 2022, raised a whopping $14,500 in the form of event registrations,
sponsorships, individual donations, and a the 'Chip' in For Charity hole contest put on by Destileria La Zona.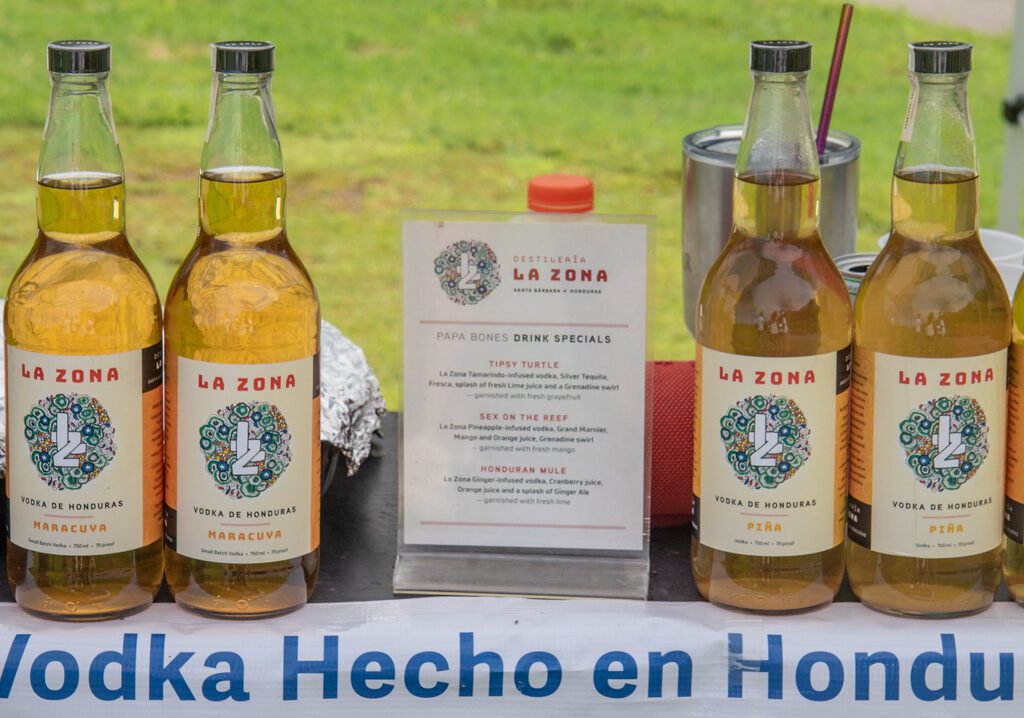 Additionally, Sun Divers dive equipment partner Scubapro made an in-kind donation valuing $1,000 in scuba kits for the kids of SOL. This brought Sun Divers entry into the Golden Buoy Competition to a grand total of $15,500. Not familiar with the Golden Buoy? Learn about this local dive shop competition that benefits SOL.
The money raised supports SOL's programs such as the Happy Tummies Active Minds breakfast program, organized sports and scholarships.
While SOL and Roatan's kids were the most important winners of the day, they weren't the only ones. The tournament featured 10 hole prizes, a first and second place team, along with a "biggest loser" prize for the last place team. Winners were announced at an awards ceremony hosted by Roatan Island Brewing Co.
TOURNAMENT WINNERS
First Place: Russ Regentz, Sam Burgin, Bo Shomaker, Kirk Herrick
Second Place: Dennis Fehler, Denny Hynes, Rik Gary, David Santa
Last Place: Team "PAR-TEE GRLZ": Loren Welbourne, Cindy Carter, Melissa Benfield, Elise Piatkowski
The day also featured breakfast sandwiches courtesy of Sandy Buns Bakery, mimosas and a "first shot" coffee liquor drink courtesy of Destileria La Zona. And photographer Monique Tareé of Roatan Moments Photography, made everyone's golf games look good!
"We're overwhelmed by the generosity of our business partners, customers and friends. Everyone's contribution is going to one of Roatan's most important non-profit organizations, and will make a real difference in the lives of Roatan's kids," Sun Divers Owner and Golf Tournament Coordinator Shannon Shuman said.
"We're determined to grow this golf tournament into Roatan's premier event with even more hole experiences and prizes, as well as continuously growing the support for SOL."
Stay tuned for photos from the event and a save the date for the 2023 event.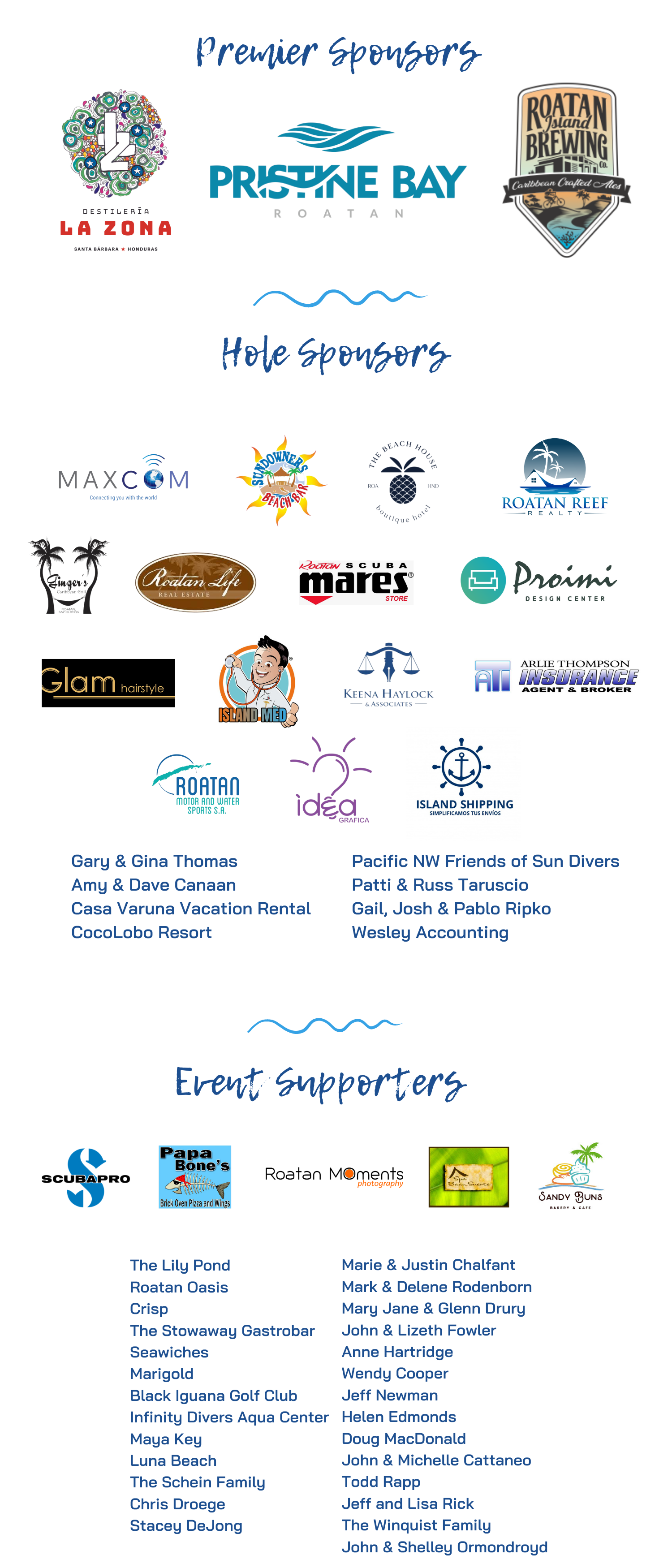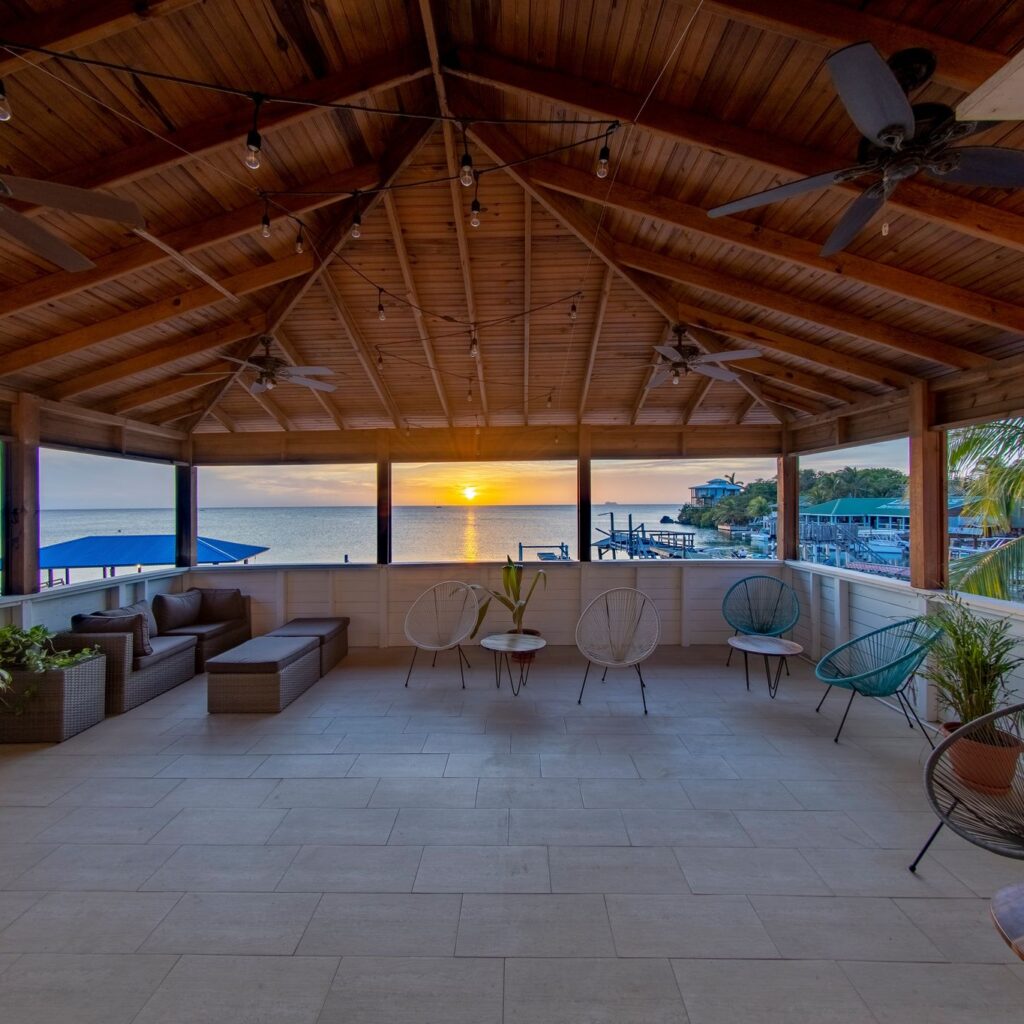 Working remote in Roatan is totally possible. Find your work-dive balance as a digital nomad in one of the Caribbean's top dive destinations.
This is NOT a sponsored blog. Just us sharing our opinion! 
Hi, my name is Shannon, and I am a recovering workaholic.  
As dreams go, in my opinion, I have hit the jackpot: Along with my wife, I own an amazing dive shop on a tropical beach on the island of Roatan. This dream has been in the works for decades and finally came true this year. While our story has interested and even inspired people, I would be the first to admit that the leap we took is not for everyone.  
The reality is not everyone is ready, willing or able to step away from lifelong careers to pursue a less stressful existence. Luckily, these days you don't have to. There are ways to work hard and still have enough hours in the day to do things that recharge you (like diving). It is possible to feel like you're working to live, and not the other way around.
How you can find work-dive balance
While the COVID-19 pandemic turned everyone's world upside down, it taught many companies and individuals that entire teams don't need to be tethered to a physical office to keep business running.  
Enter the age of the digital nomad. Digital nomads are defined as freelancers, entrepreneurs, or employees with flexible bosses who need only a laptop to work from wherever they want. And they want to work from somewhere with a good quality of life….usually in a remote or international location. 
There are many benefits of a remote work culture. Increased job (and life) satisfaction, productivity and balance, and decreased overhead costs, and carbon footprints with a reduction in commutes. 
The trends toward more remote working were already steadily increasing, even before COVID struck. Now that COVID has a firm grip on every aspect of our work culture, it is estimated that 70% of employees will be remote by 2025. 
Now that I've given you plenty of ammunition to successfully ask your boss to make this big change, we can focus on the fun part:  
Deciding where to work remote
You've decided to make remote work a new part of your lifestyle. Now you need to decide on where you would like to work from. The beauty is that you don't have to choose just one place forever – hence the nomad part of this. You can move as often as you want, and as often as your pocketbook (or boss) will allow. But wherever you choose to satisfy your wanderlust, it needs good internet, reliable services (power, water, and cell towers), access to stores for groceries & household goods, and a reasonable cost of living. 
Allow me to introduce you to Roatan!
Roatan is an island about 40 miles off the northern coast of Honduras. It is 47 miles long and no more than 5 miles wide, yet the largest of the Bay Islands, and surrounded by some of the most spectacular Caribbean blue water you have ever seen.  It's also fringed by the world's second largest barrier reef: the Mesoamerican Barrier Reef. If you are into diving, snorkeling, kite surfing, or just relaxing on the beach… there is an endless number of things to do and see. The island is atop an ancient reef and it is mostly tropical, untouched jungle. It's still relatively less commercialized than most island locations, making it still a hidden Caribbean gem. But the island is having its moment as seen on The Today Show, Fodder's and Conde Nast. And there's no better time than the present to experience it.  
Why Roatan is Great for Digital Nomads
Before my work attire completely switched from business suits to bathing suits, I worked remotely here in Roatan. I experienced firsthand whether you can be reliably connected with a demanding job or not.  Spoiler alert: you can! Here's what I think makes Roatan great for digital nomads: 
Reliable Wifi
Are you side-barring on slack, while trying to maintain enough eye contact with your everyone in your zoom room to look interested in Q4 planning, but also wanting to sneak a peek at your phone and see how many people liked your last Instagram reel? While the speed in Roatan's high speed network is maybe more akin to a station wagon than a Ferrari, it is consistently reliable. Fiber internet is now available on the island and many rental homeowners are making the upgrade. My personal speed tests with MAX show that typical download speeds are around 10mb, and while that's snail-like compared to your Google Fiber it's enough to make sure you can share your screen and come in loud in clear when it's your turn to hit present. Sure, you may have to limit the number of internet-based applications you're running at a single time, but multi-tasking isn't good for you anyways.  
Reliable Utilities
As important as reliable internet is reliable electrical power, cell service and even water and gas. While the other Bay Islands deal with almost daily power outages, Roatan's are very infrequent these days and almost always scheduled with advanced notice. Sure, you'll get the random car crash or fallen tree that takes out a power line – but those instances are rare. Likewise, you see few interruptions in cell service or water and gas delivery (both of which happen by trucks that make daily rounds through the neighborhoods.) Now this isn't to say that it never happens. Remember, you are living on a remote island. But it happens less often than you would expect.
Coworking and Coffee Shops Galore
While we don't have a Starbucks on every corner, we have a surprising number of hip coffee shops and cafes with tons of character, excellent local java   to help keep the creativity flowing and a nice work ambience. We still break away to the coffee shop when we need to focus on big projects for the dive shop and Bean Crazy, Café 314 and Café de Palo are just a few of our favorites. If you want to start Fri-yay a little early or have to clock some hours over the weekend, the Roatan Island Brewing Co. is one of the best spots to meet that project deadline, celebratory microbrew in hand.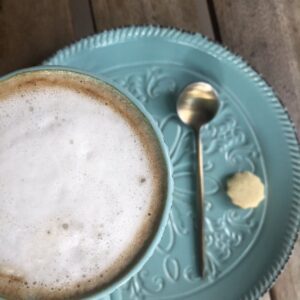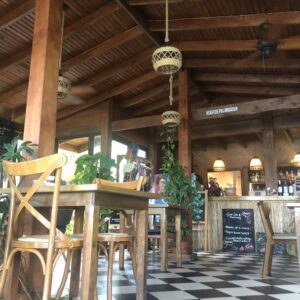 Super chic coffeehouse vibes, a cool ocean breeze and killer lattes make Café de Palo a personal favorite.
Don't want the coffee grinder interrupting you team meeting? Or maybe you need to feel like your "going to the office" to really be productive. While life does progress a bit slower here, we're way ahead of the curve when it comes to co-working spaces. Right in the heart of West End, is a brand new, modern coworking space called Beach Desk. It has all the common amenities of coworking spaces (fully equipped work stations with monitors, keyboards and mouses to connect to your laptop, private phone cabins, meeting rooms and conference/event space) with the added bonus of an inspiring view from their terrace right above the water. They also have a backup generator so not even the scheduled power outages can be an inconvenience and they are expanding the space to include private offices soon.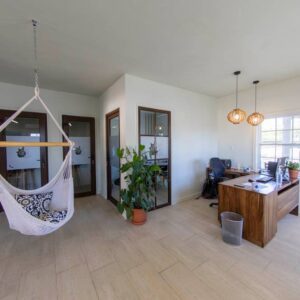 .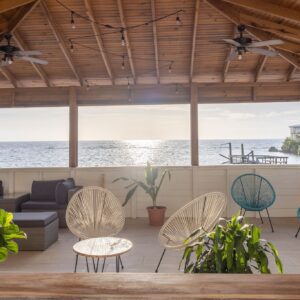 At beach desk, everyone has an office with a view.
Proximity to Nature
Think back to a time you felt happy, relaxed, recharged. You were probably somewhere in nature. And if you're like the majority of people, you were probably by the blissing out by the ocean. While most must take the coveted three-day weekend to make a break for their happy place, when you live in paradise you can get there before your boss even has the chance to hit send on their "sorry to bother you after hours" email. In fact, you'll be so close to your happy place that you can easily block off a "productivity pod" to recharge with a session of sun yoga, a swim in the bay or an afternoon or night dive.  
In addition to these important remote work amenities, Roatan also has a number of local gym facilities, spas, fantastic restaurants of every persuasion (you can even find Pho here!) grocery stores stocked with your favorite brands (albeit for a bit more money since their imported) and local fruit markets, seafood vendors, as well as super affordable local food joints for the adventurous eaters. 
What are you waiting for? 
If diving is how you want to spend your free time, you can learn more about what makes Roatan one of the best diving locations in the world, as well as our curated yet casual approach to adventuring on the MesoAmerican Barrier Reef. You can also feel free to reach out to us at [email protected].