December, 2021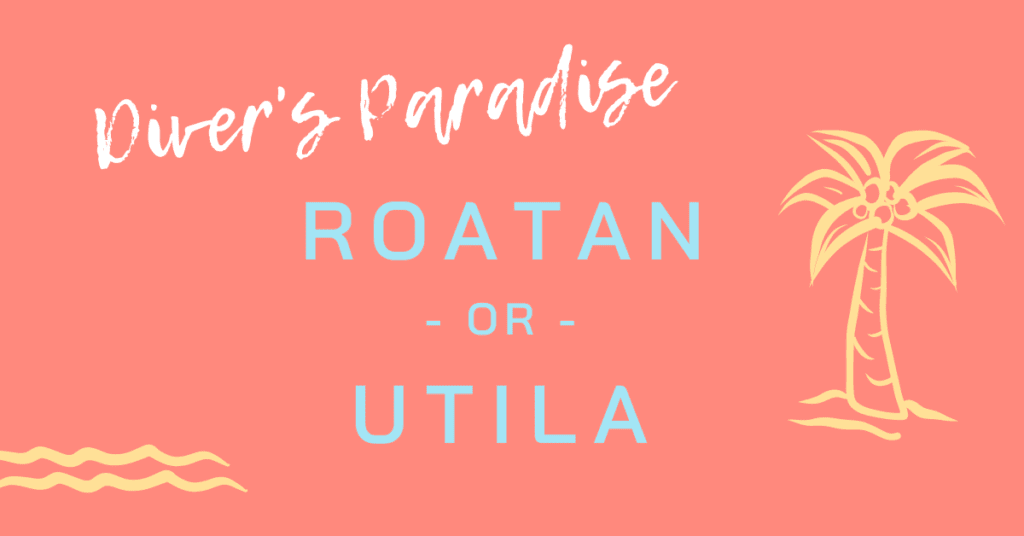 By Sun Divers Roatan / December 07, 2021 /
Blogs
Is Roatan or Utila better for diving? While they're so close in proximity, they couldn't be more different in terms of the experience they offer both under water and above on land. And if you're already making the trek to one, it really is worth visiting the other. But if you must choose, consider a few factors to decide which island is more 'your scene,' including the marine life, dive center culture, island vibe and more. 
Full disclosure: We're lucky enough to live on the island paradise of Roatan – so it's hard to make this 100% unbiased. But we've also been fortunate to travel the world and appreciate sound and honest advice that some travel blogs provide. So, in our attempt to pay it forward, here's our take on the differences divers will experience when in Roatan and Utila.  
Creature Features 
Though they are part of the same MesoAmerican Barrier Reef system (the world's second largest after Australia's Great Barrier Reef) local conditions and reef protection efforts have a huge influence on the type of marine life that you see. We had always heard that Roatan is "fishier" and that laymen description is pretty fitting. In contrast to Utila, Roatan is teeming with life. Schools of fish, large and small, groupers, triggerfish, gobies, blennies, filefish – if you can name it, you will see it when diving Roatan. Eagle rays and sea turtles – hawksbill, green and even the occasional loggerhead – are almost guaranteed if you're getting in at least a couple days of fun dives.  
What Utila lacks in its fishiness, it does make up for with its coral. We were consistently captivated by colonies of thriving pillar coral towering majestically with their polyps swaying in unison with the surge. Enormous elkhorn are the perfect focal point for photos, sun rays shining down upon them as if from the heavens (cue angelic singing). The coral life really is a sight to see. 
We've always heard Utila is where you go to see the pelagic life in this region. Nurse sharks were certainly more prevalent than in Roatan, but the much sought-after whale shark remained elusive, and we were told that had been the case for much of the year.  
 Dive Site Variety  
Both Roatan and Utila are fortunate to have a fringing reef, encircling the islands and allowing for diving on all sides.  But with an area of 32 square miles, Roatan is almost twice the size of Utila equating to more reef to explore and a wider variety of dive sites.  There are literally hundreds of Roatan dive sites around the island with a wide variety from wall dives, macro, swim throughs, wrecks and more.  
Dive Center Culture 
One of the more striking differences between Roatan and Utila is the dive center culture. Most dive centers in Utila are focused on being training centers for those who've decided to buck the traditional path to professionalism and pursue an exciting and adventurous career in the dive industry.  They offer longer-term lodging accommodations with zero to a hundred packages for people who need to work from the beginner level to a professional track.  
This translates into an energetic and international vibe from throes of young people who are incredibly passionate about the ocean and diving. As a fun diver, you sometimes can tag along on the training dives at a discounted rate.  
This also translates into a need for bigger boats to accommodate more students in addition to fun divers. Bigger boats, usually means slightly longer travel times and many of the shops have an early-morning departure time of 7:30 a.m. compared to 8:30 a.m. or 9:00 a.m. more typical on Roatan.  
So, prepare yourself for some bleary-eyed dive trips in Utila, especially if you want to take advantage of its well-known night life.  
Island Night Vibes 
As a mecca for youth who are seeking the sea as a way out of the normal nine-to-five corporate culture, it's no surprise that Utila is also known as the "party island."  As one of our divers stated, "I felt like an old man." And he was only 30 years old!  
But 'age ain't nothin' but a number' and if you've got the energy, Utila's got the night vibes. A stop off at the famous (or infamous) Skid Row to witness – or even participate – in the guifity challege is a must. What is the guifity challenge you ask? Well it involves copious amounts of local, herbacious alcohol and spinning until you want to yak – all for a free Skid Row shirt. Totally worth it, right?!  Full Moon parties celebrating recent Divemaster and Instructor certs at the Jade Seahorse are known to be a good time. And Underwater Vision's Trivia Nights are a who's who of DMTs and instructors in the making.  

Would you do this for a t-shirt? Not gonna lie, we might! 
By contrast, Roatan's party crowd is a more mixed demographic. It's young and old, local and expat, and pretty much always a good time though there's probably a lot less "swiping right" opportunities than on Utila if you catch our drift. There are monthly EDM dance parties by the beach at Tequila Jack's in Brisas del Mar, live music and music trivia nights weekly at the iconic Sundowners Beach Bar (next to Sun Divers), late night dancing at Frank's Hideaway and many, many more beach bar hangouts in between. We LOVE weekends at the Roatan Island Brewing Co. – I mean, where else can you find a killer brewery in the middle of a tropical rainforest? And the Roatan Local Market rotates locations and creates a cool hangout spot where you can also support local small businesses. 
Accommodations & Remote Work Challenges
Lodging options is probably one of the starker differences between Utila and Roatan. While Roatan has something for everyone from hostels and dorm rooms to boutique hotels and luxury vacation rentals, options in Utila are a bit less varied. Looking for a place to stay in Roatan? Contact us for our list of "diver approved" lodging options for every budget size.  
People often describe Utila as a backpacker locale, and the lodging options show why. There are many hostel options, budget AirBNBs, but luxury or boutique accommodations are very limited. We stayed at one of the newer hotels called
the Manurii Boutique Hotel and found it to be a beautiful little boutique oasis that we'd happily return to – though one of us (who's 6'4") would appreciate a hotel with a king bed.  
While we were there solely for vacation and happy to disconnect, we experienced a few long-lasting power outages that we noted would make working remote from Utila quite challenging. We were told that daily power outages could be expected and that sometimes there are days when you only have a few hours of electricity. This can be an excellent forcing function for anyone who needs to learn how to disconnect and live in the moment, but would present challenges if you're looking to work while you get your wanderlust in.   
We find Roatan to be the perfect paradise for digital nomads with many accommodations providing high speed cable internet and infrequent and usually scheduled power outages.  
So how to choose? 
Don't! Visit both and contrast and compare for yourself!  
But if you have to decide, think about what element of travel is most important to you and which island is going to fulfill that best. Maybe you want to dive hard and play harder and need a night life scene that can meet your night owl tendencies. Or you have a certain living standard you want to meet wherever you rest your head and want a wide variety of dive experiences on the daily.  
Wherever you choose, we promise the Bay Islands will not disappoint and you'll only leave wanting to come back for more.  
Looking for more personalized advice to help plan your dive trip? Feel free to contact us for more details on diving and vacationing in Roatan and the Bay Islands.