October, 2022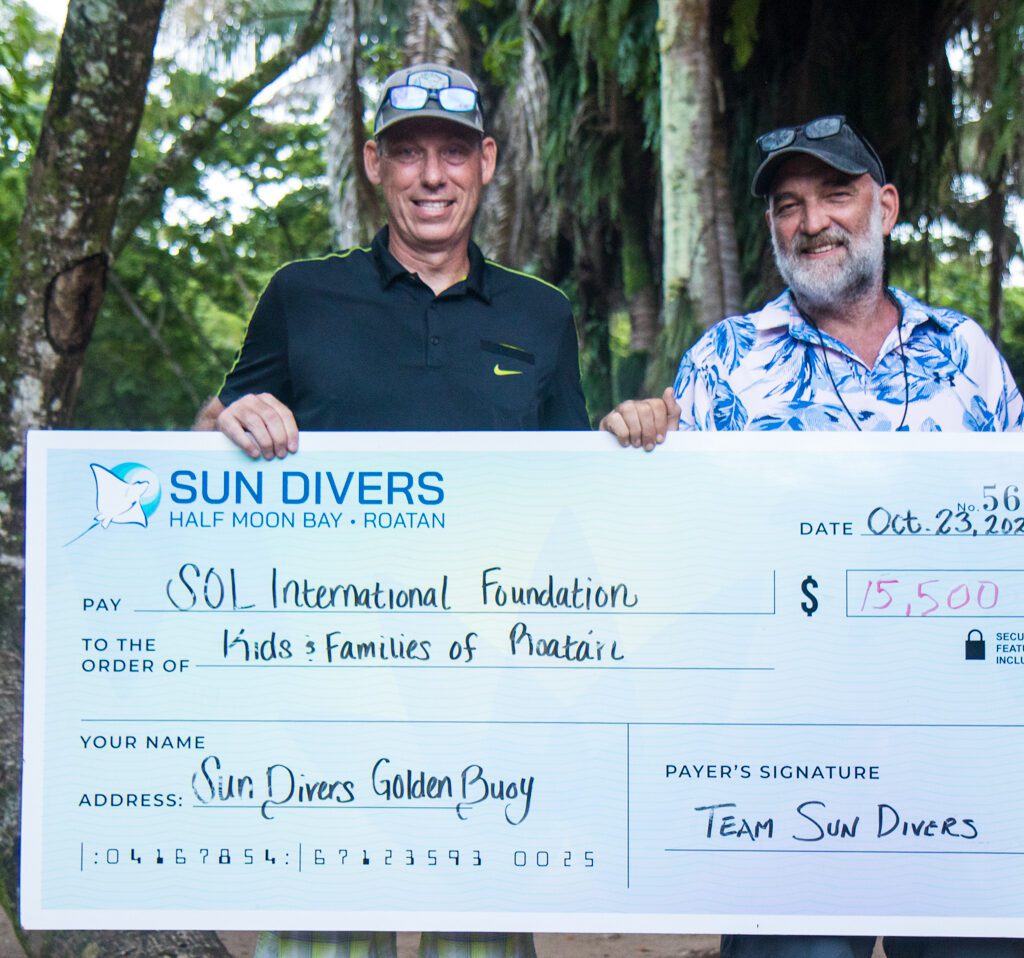 The 6th Annual Sun Divers Charity Golf Tournament started in the way no golf tournament should start: with a downpour. But the clouds parted and skies cleared, making it an exceptionally beautiful day for golf. And nonetheless, Team Sun Divers managed to still "make it rain" in the best way for the SOL International Foundation.
The tournament, held on October 23, 2022, raised a whopping $14,500 in the form of event registrations,
sponsorships, individual donations, and a the 'Chip' in For Charity hole contest put on by Destileria La Zona.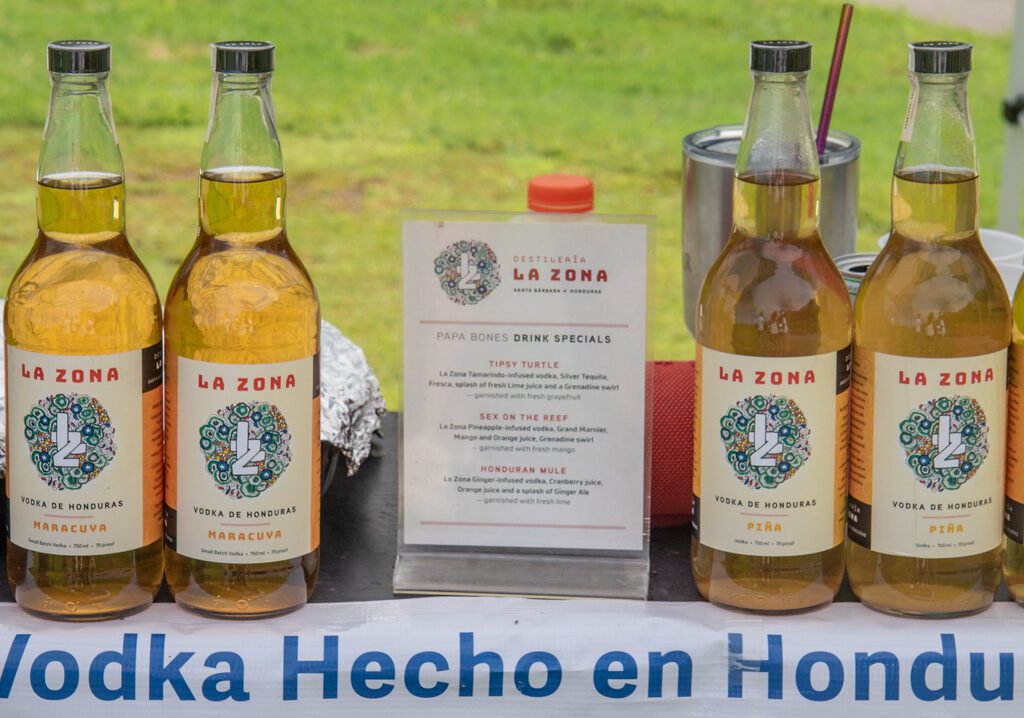 Additionally, Sun Divers dive equipment partner Scubapro made an in-kind donation valuing $1,000 in scuba kits for the kids of SOL. This brought Sun Divers entry into the Golden Buoy Competition to a grand total of $15,500. Not familiar with the Golden Buoy? Learn about this local dive shop competition that benefits SOL.
The money raised supports SOL's programs such as the Happy Tummies Active Minds breakfast program, organized sports and scholarships.
While SOL and Roatan's kids were the most important winners of the day, they weren't the only ones. The tournament featured 10 hole prizes, a first and second place team, along with a "biggest loser" prize for the last place team. Winners were announced at an awards ceremony hosted by Roatan Island Brewing Co.
TOURNAMENT WINNERS
First Place: Russ Regentz, Sam Burgin, Bo Shomaker, Kirk Herrick
Second Place: Dennis Fehler, Denny Hynes, Rik Gary, David Santa
Last Place: Team "PAR-TEE GRLZ": Loren Welbourne, Cindy Carter, Melissa Benfield, Elise Piatkowski
The day also featured breakfast sandwiches courtesy of Sandy Buns Bakery, mimosas and a "first shot" coffee liquor drink courtesy of Destileria La Zona. And photographer Monique Tareé of Roatan Moments Photography, made everyone's golf games look good!
"We're overwhelmed by the generosity of our business partners, customers and friends. Everyone's contribution is going to one of Roatan's most important non-profit organizations, and will make a real difference in the lives of Roatan's kids," Sun Divers Owner and Golf Tournament Coordinator Shannon Shuman said.
"We're determined to grow this golf tournament into Roatan's premier event with even more hole experiences and prizes, as well as continuously growing the support for SOL."
Stay tuned for photos from the event and a save the date for the 2023 event.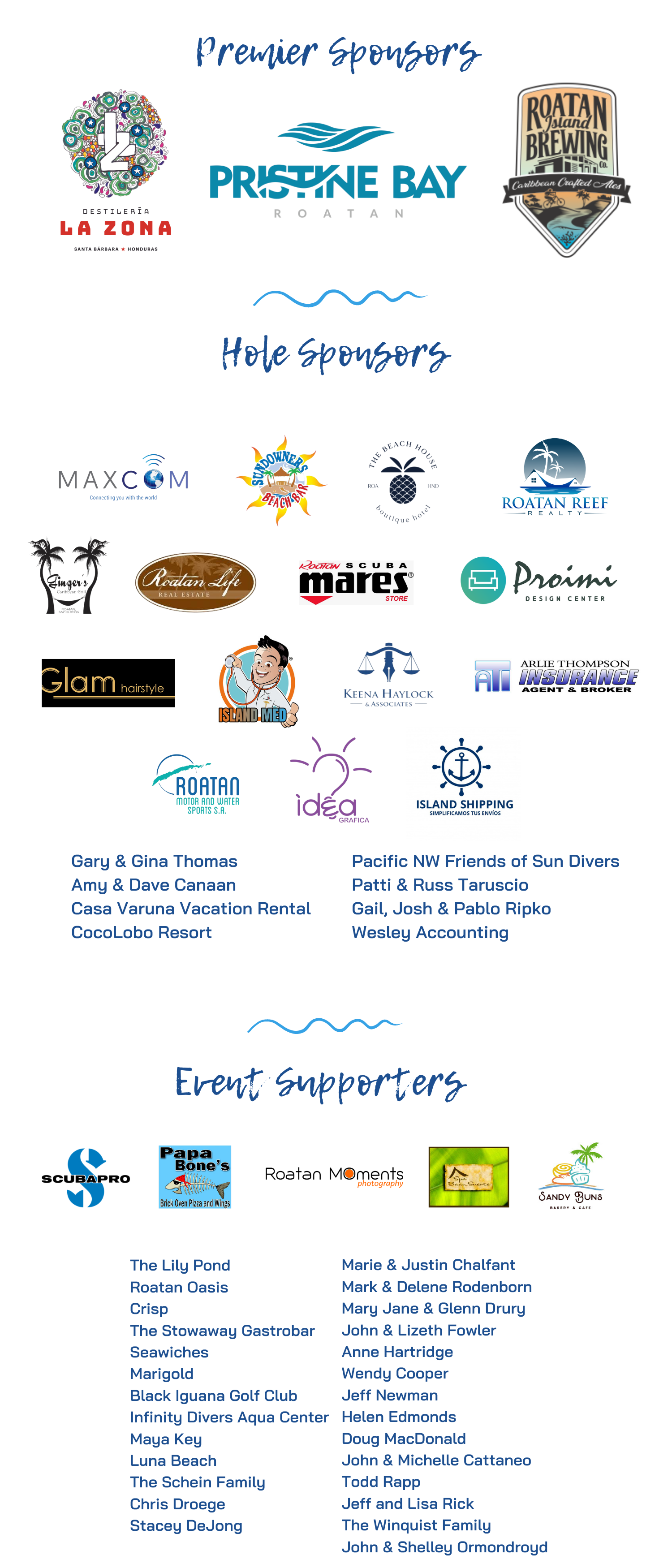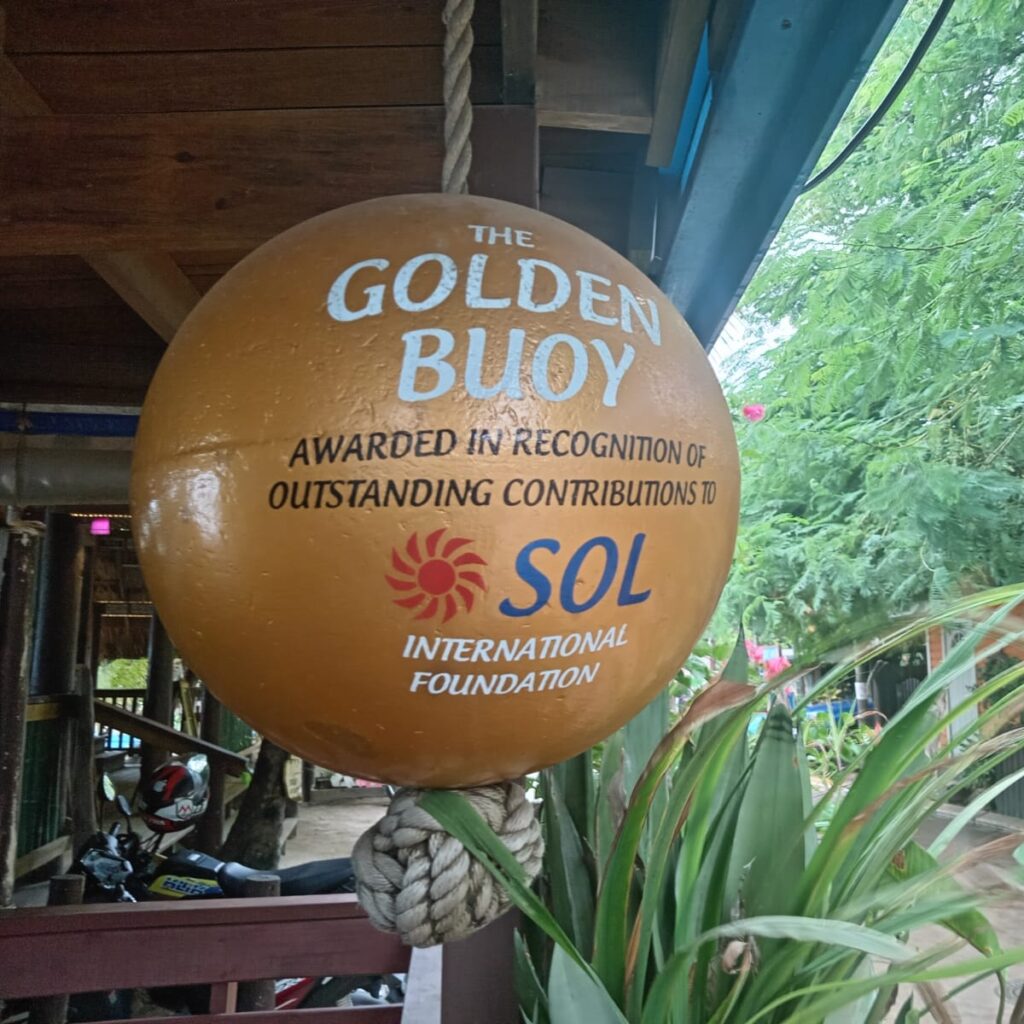 By Sun Divers Roatan / October 16, 2022 /
Blogs
Diving is one sport that doesn't have that "go for the gold" style competition. There's no World Cup, no Heisman and certainly no Super Bowl.  
But if you come to Roatan in the fall, you might get to witness or partake in a major competition amongst local dive shops called The Golden Buoy Competition.  
The Golden Buoy is a highly coveted award that is bestowed upon the dive shop that can raise the most money for SOL International Foundation. Each participating dive shop creates their own unique fundraising event in support of SOL. And then competition season is culminated with Dive Shop Olympics where teams of five people from each shop compete in outrageous events like a three-legged snorkel race or hot dog eating contest.  
How did the Golden Buoy come about?  
Like all good ideas, the Golden Buoy was concepted over a few drinks at the local Roatan watering hole, Sundowners in 2007. SOL Founders Dave Elmore and Brandon Raab, along with their buddies Mark Flanagan (of Roatan Island Brew Co.), Mal Forrest (formerly of Sun Divers)  and Nick Taruscio came up with the idea as a way to creatively engage the community in supporting SOL, while raising the profile of the organization and the positive impact they were making in the community.  
Five shops competed the first year through raffles, auctions, scavenger hunts and the ever-creative three-legged pub crawl. "As the years went by, the events became more and more imaginative, and the event took on a life of its own," Dave said. "We found that it was the one thing that seemed to bring all the different dive shops together, working toward a single goal of raising money for the kids in the community."  
Tell me more about these events! 
Some of the more memorable (and comical) events have been belly flop competitions, the pub crawls and poker runs.  
"The best thing about the Golden Buoy is that it brings the community together for a great cause," SOL International Foundation Treasurer and Owner of Roatan Island Brew Co. Joanie Flanagan said.  
Dive Shops host fundraising events that run the gamut, from cornhole competitions to family carnivals. We can't wait to see what this year had in store for our community.
Sun Divers will continue our tradition of hosting the island's premier golf tournament. Our 7th Annual Charity Golf Tournament will take place on September 9 at the Black Pearl Golf Resort at Pristine Bay. We have space for twice as many players this year, which means we can raise even more money for the amazing work that the SOL International Foundation does for our island community. Check out the event & registration details!
And tournament sponsors are a major way that we raise our charitable funds, so if you have a company or brand that you're looking to elevate your profile in the Roatan community, be sure to look into becoming a sponsor.
Is there an actual Golden Buoy?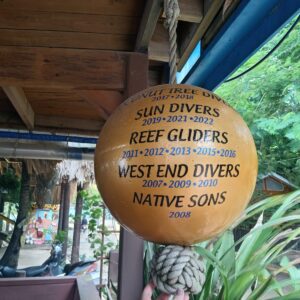 While the Golden Buoy competition is really done in the name of Roatan's kids, no competition is complete without a coveted grand prize. There must be a symbol of triumph and a source of motivation for future competitions. For dive shops in Roatan, that golden glory comes in the form of shiny, gold buoy that the winning dive center gets to display proudly in their dive shop.  
The Golden Buoy was designed and painted by local artist Bella Willshire. Last year, the Golden Buoy was given a facelift so that it could shine bright when it was brought to hang back up at Sun Divers for yet another year. 
Previous winners of the Golden Buoy include Native Sons, West End Divers, Coconut Tree Divers, Reef Gliders, and Sun Divers where the prized possession currently hangs.  
Help Sun Divers keep the Golden Buoy!  
While the golf tournament is SOLD OUT, you can still support the SOL foundation and help us keep the Golden Buoy hanging in her rightful place, by donating directly to the SOL Foundation here. Be sure to add "Sun Divers" in the notes section and send us a screen shot to +504-9585-2113 or [email protected] so we can add it to our fundraising tally! 
How are the funds raised used? 
There have been at least 13 Golden Buoy competitions and well over $100,000 raised in support of the SOL International Foundation. Last year, Sun Divers was able to raise a whopping $15,500.  These funds go to support SOL academic scholarships – of which they currently have 40 students ranging from kindergarten to med school. They also operate a community center that serves breakfast to local kids and offers a wide range of learning opportunities, as well as Little League and several other sports programs that hundreds of local kids participate in. All these initiatives are providing local kids with a good education, positive extracurricular activities and proper nutrition – building blocks to nurturing healthy, successful adults and community members.  
To learn more about SOL International Foundation, visit their website. And stay tuned for the results of the 2023 Golden Buoy Competition!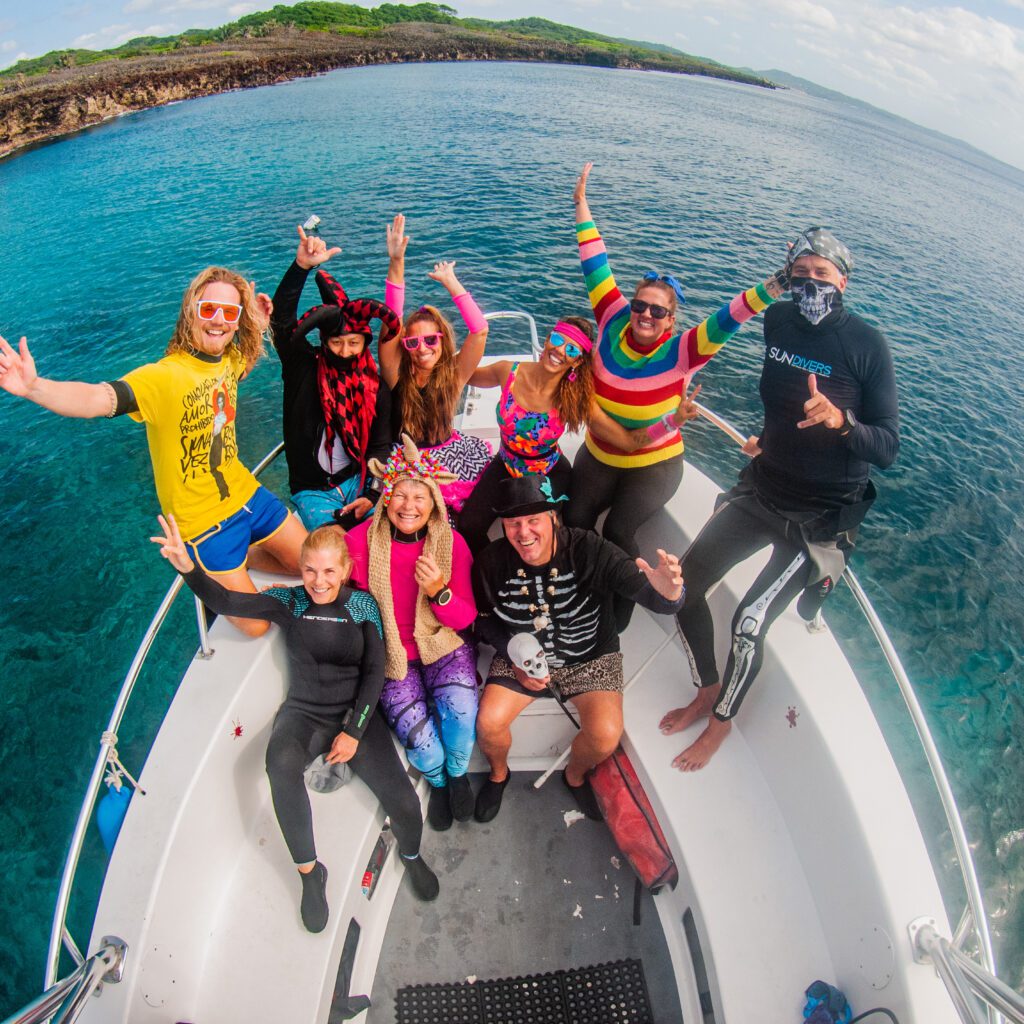 By Sun Divers Roatan / October 10, 2022 /
Blogs
Spooktacular Dive Trip
When: Sunday, October 30 | 8:00 AM to Noon
Where: Sun Divers – Half Moon Bay in West End, Roatan (near Sundowners Beach Bar)
Cost: Two-tank dive price + $10 costume contest entry free
RSVP via Whatsapp +504-9585-2113 or Email
---
About the Event
It's true that it never feels quite like fall in the Caribbean. Palm tree fronds don't change color. Pina coladas are more the rage than pumpkin spice lattes. But that doesn't mean we can't enjoy the festivities. Especially if it means mixing in a little creativity and fun with our most favorite thing here at Sun Divers: diving with you all, of course!
Join Sun Diver's 2nd Annual Spooktacular Dive Trip and Underwater Costume Contest. 
Yes, you read that right: UNDERWATER costume contest.
Sun Divers is getting spooky!
First and foremost, this is really just an excuse to get the coolest dive tribe around together for some frighteningly good fun – including those that won't be on the island (more on that in a minute). We'll run our two-tank morning trip per usual, but with a few twists:
These dives will be a little on the 'spooky' side 😉
We'll do a beachside surface interval that will include some pumpkin spiced up snacks.
And what would Halloween diving be without an underwater costume contest?
Underwater Costume Contest, you say?
That's right boys and ghouls. We want you to get creative with those underwater outfits. In fact, you can go all-out-Darth Vader if you want. Or how about an underwater unicorn? Wear whatever floats your boat….as long as it is safe for scuba and for the ocean.
A few tips to make sure safety's first:
Choose a costume that will not obstruct or get caught on your gear, nor affect your dive skills. Non-scuba masks can be worn on the boat and for photo opps, but not on the actual dives.
Leave no trace and keep it reef friendly. Avoid anything that will wash off or fall off while diving.
Keep it family friendly. Hopefully we don't have to explain this one!
How to Win
Photos of contestants will be posted on the Sun Divers Facebook Page. Entrants must like the Sun Diver's facebook page to allow for tagging.
Sun Diver Facebook fans near and far will have 24hrs to vote by liking the pics of their favorite costumes
1st and 2nd place winners, based upon # of likes, will be announced via Facebook on Halloween Day, Monday, October 31
What You'll Win
First place – $100 Gift Card to ScubaPro
Second place — Sun Divers swag
Are you in? Reserve your spot today! 
For questions about the event, you can contact us at [email protected]
2021 Spooktacular Dive Trip