To E-Learn or Not to E-Learn?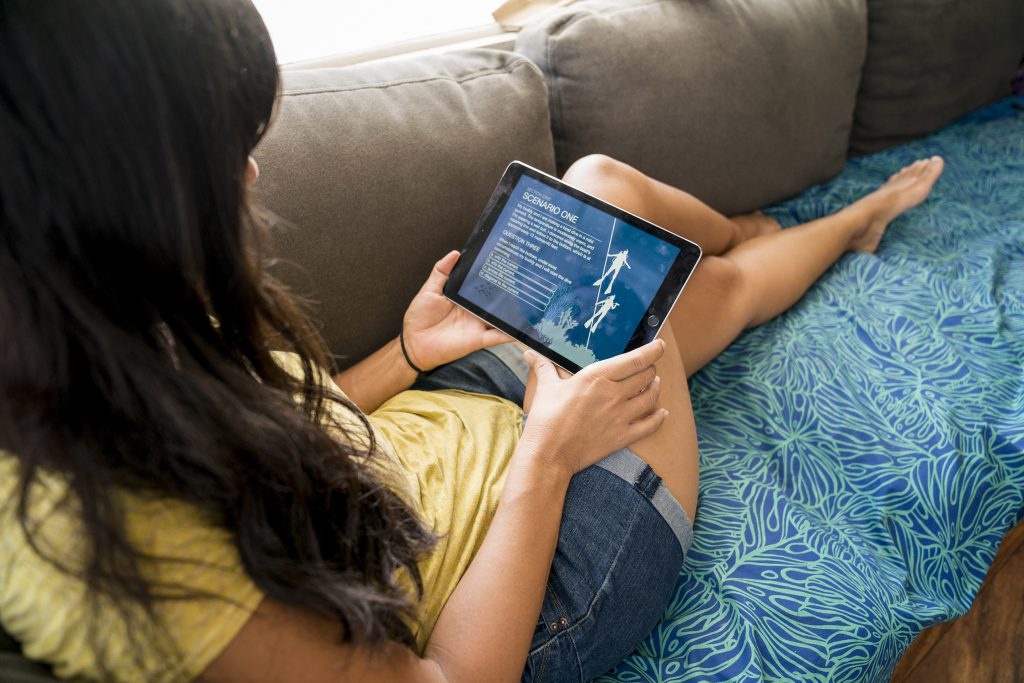 That is the question that a lot of people have when first considering achieving a PADI certification. But, like most things in life, there isn't a one size fits all approach to SCUBA diving certifications. And that's actually a good thing, because it allows you to personalize your diving education journey.
So how do you know if E-Learning is right for you?
Consider three things when deciding if you should opt for the PADI E-Learning vs. a full course at your dive center of choice. 1) your personal learning style, 2) your vacation length and 3) your budget.
But, before we dig into whether E-Learning is right for you, it's probably best that you understand exactly what your options are! We'll use the PADI Open Water course to highlight the differences.
The PADI Open Water Diver course includes three parts:
Knowledge Development, Confined Water Dives, and Open Water Dives. Knowledge Development covers the principles, concepts and terms you need to know for dive safety and enjoyment. During the Confined Water Dives, you learn and practice scuba skills in the shallow waters of our bay (other dive centers might use a pool). Then, to complete training, you will apply and demonstrate what you've learned through four Open Water Dives upon the beautiful Roatan reef.  
Confined water skills might not be required for the certification program such as Advanced Open Water or Specialty Certifications.
There are two ways to approach the Knowledge Development portion of all PADI certification programs:
One is through PADI E-Learning which is an online training platform that includes a mix of written education and videos. The knowledge reviews, quizzes and final exam that you'd normally take on site at the dive center are administered for your completion online prior to show up to the dive center for your course. When you start the in-person part of the course with your dive center, they will administer a set of questions for you to answer known as a "Quick Review." This allows the instructor to see where there might be knowledge gaps that they will then help fill through discussion with you.
The second option is to take the "Full Course" at your dive center. With this option, you read a hard copy manual and answer the knowledge reviews in advance, and also must watch a series of videos. You then review the content of each of the five knowledge development sections with your instructor. With this option you'll be able to ask more questions and hear anecdotes from your instructors experience that provide additional context to the theory. Quizzes are taken on site and reviewed with your instructor, as is the final exam.
With both options, you still must complete the confined and open water skills in person – there are just some things that can't be done in a virtual world (yet!).
Is E-Learning right for your learning style? 
Spoiler alert: Learning "styles" are a myth! Many of us have probably been told that we are either predominantly a visual, auditory and kinesthetic learners. And that when trying to process and learn new information, it should be taught to us in the style that's our dominant learning style.
Cognitive research today has thoroughly debunked this myth. Plus, the PADI e-learning platform is an engaging mix of reading, informational images / graphics and videos hitting on both visual and auditory learning. Combine that with the kinesthetic confined and open water skills and you've used all senses to learn.
So if you think e-learning is not for you, you might just think again. Unless you just really prefer the experience of a "real" book vs. more screen time.
Will E-Learning give you more time to enjoy your vacation? 
Absolutely. A typical full course will take 3 – 3.5 days to complete based upon your own rate of progress. E-Learning typically takes 2.5 – 3 days. That means more time for you to maximize your vacation – either moving on to fun diving after certification or freeing you up to incorporate other activities into your vacation.
Does E-Learning Cost More? 
In short, yes. But as the saying goes, "time is money" and it's just a matter of how much your time – especially your vacation time – is worth to you. Compare E-Learning prices here to decide whether it's worth it to you.
Now that you know some of the differences between E-Learning and PADI's traditional methods of instruction, it's time to decide which is right for you. Still have questions? Don't hesitate to reach out and ask!