Remembrance and Restoration: The Story of The Chief's Quarters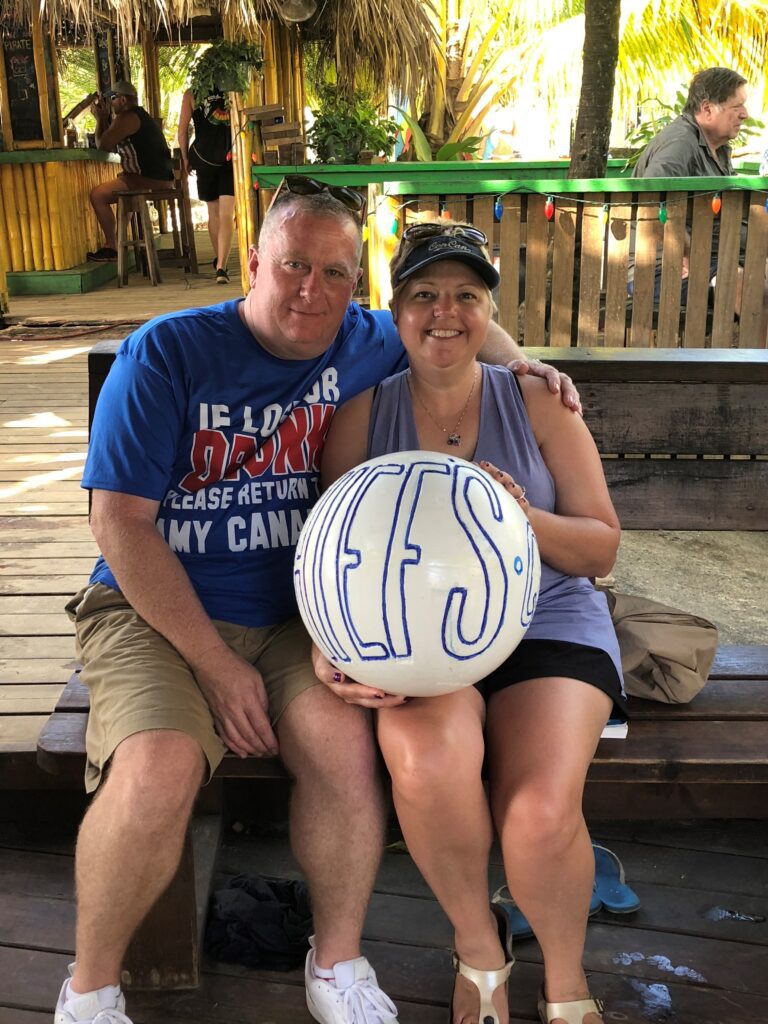 Dave and Amy Canaan holding the mooring ball that helps dive boats moor at The Chief's Quarters.
By Sun Divers Roatan / November 23, 2021 /
Blogs
The Chief's Quarters is more than just a dive site on a map. It's a remembrance of a great man who was a medaled Navy officer and lover of the sea. It's also a site that is a training ground for new scuba lovers, an exploration ground for experienced divers and the birth site of many new coral colonies as the designated out planting site of the Roatan Marine Park Coral Restoration program. Here's what makes The Chief's Quarters special to Roatan and to the people who dedicated it to our dive community.  
How The Chief's Quarters came to be  
Like so many of us, Roatan is Dave & Amy Canaan's happy place. When they decided to make Christmas gifts more about experiences than presents, their daughter Madison chose for the family to get Open Water certified in Roatan. Now its their home away from home; where they've made many happy family memories and have connected with many newfound friends! And come 2022, Roatan will become their actual home – just to give you a sense of how much they love this place!  
And while they've been fortunate to share this happy place with many friends & family, the one person they never got to share it with was Dave's dad, Richard Canaan – the very person who inspired Dave's love for the ocean. 
So, while Dave and his family couldn't share Roatan with Richard in life, he decided they'd share it in spirit. On February 23, 2018, the Canaan family dedicated the site to his father through the Roatan Marine Park's Name a Dive Site program.   
The Name a Dive Site program offers people a way to demonstrate their commitment to Roatan's community while honoring loved ones. It also supports the RMP Marine Infrastructure Program funding the installation of mooring lines that help increase diver access to the Mesoamerican Reef in Roatan, while decreasing mechanical damage to the reef caused by anchoring.  
The dedication of the site included the installation of a plaque that sits at the base of the mooring line reading "…may you experience fair winds and following seas." According to the Department of Navy – Navy Historical Center: ""Fair Winds and Following Seas" is really two quotes originating from different sources. The two quotes are a nautical phrase of good luck–a blessing as it were–as the person, group, or thing it is said to departs on a voyage in life." 
Over the years, Dave and Amy have shared the site with many of Richard's loved ones including a group of 49 friends and family members who took a cruise to Roatan and were able to snorkel and dive the site. Recently, Dave's sister Wendy did her Discover Scuba Diving experience, getting to connect with the memory of her dad and the ocean that he loved from the beautiful depths below. She's now on her way to becoming Open Water certified.  
Meet 'The Chief'
Richard Canaan was a husband, father, grandfather, brother and friend. He was also a diehard Kansas City Chiefs fan and a Navy man, earning the patriarch of the Canaan family the nickname and title of 'The Chief.'   
The Chief who dedicated 22 years of his life to the U.S. Navy and then another 22 years in the Civil Service, was stationed in Japan, Norfolk, VA., San Diego and Port Hueneme Calif., and Jacksonville, FL.  
One of Dave's fondest memories is flying to Hawaii as a young boy (twice) and sailing on the Navy ships with his father back to San Diego.  
Richard was always a proud Navy man who would stop and talk to any other fellow Navy man regardless if it was a grizzled old vet like himself or someone newly enlisted.  He could always be seen wearing a navy hat from one of his service stations or drinking coffee from a cup emblazoned with a ship on which he had served.  Right up to the day that he lost the fight with Alzheimer's he was always Navy proud. He might not have remembered everything he did for his family, friends, and Country, but we will never forget. 
Why we love The Chief's Quarters 
We like to say we're more than a dive center, we're a community center for diving fanatics. And Amy and Dave have been a longtime part of that community, fun diving many times a year and supporting our team from afar when the pandemic had put a halt on the fun.  
Over the years they have become as much a part of our family as we've been of theirs. And the Sun Divers team has been honored to get to be there for so many fond memories, including those that have happened at The Chief's Quarters. Which is why the site means a lot to us.  
But "Chief's" as we call it, is a Roatan dive site that means a lot to the whole community. That's because Chief's Quarters is a dive site that's perfect for everyone: snorkelers, new divers and experienced divers. The mooring line sits on a sand patch at 20 feet which offers an expansive area for instructors and students to perform Open Water and Advanced Open Water skills, and at night it becomes the perfect place for divers to safely shut off their lights and become bewitched by the bioluminescence phenomenon The String of Pearls.  
From there it gives way to long and slowly descending plateau at 40-50 feet, and then the wall that drops to 120 feet before it hits another sandy decline. It's a common area to spot both Hawksbill and Green Turtles.  
And its memorial plaque is diligently protected by Threespot Damselfish. Like a good mate, he'll dash out and squawk at you for even laying so much as a finger on The Chief's plaque.  It's always hard not to LOL underwater at the fishes' hyper territorial protectiveness. Dave and Amy are convinced there is a little bit of the "Chief" in that fish who can be a bit ornery! 
The Chief's Quarters is also an important site for the future of the Mesoamerican Reef. It is the designated out planting site for The RMP Coral Restoration Program since it meets the optimal depth requirements for Elkhorn and Staghorn.  Since June 2020, restoration efforts have yielded out-planting of 340+ fragments.  
In September 2021, Amy decided she would become a certified Coral Ambassador. She was excited about the opportunity to leave the Roatan reef a bit more beautiful (and healthier) than she found it, but she was ecstatic when she learned that the very place these activities would happen was the site dedicated to her father-in-law.  
Want to check out The Chief's Quarters for yourself? 
Contact us to plan your next diving trip in Roatan. "Chief's" as we call it will likely be one of the many spectacular Roatan dive sites you have the chance to explore.  
Want your own dive site? 
Interested in memorializing someone you love – or just your love for Roatan and diving? Consider supporting the Roatan Marine Park's Name a Dive Site program. You can find more details here.