Do you know about The Golden Buoy?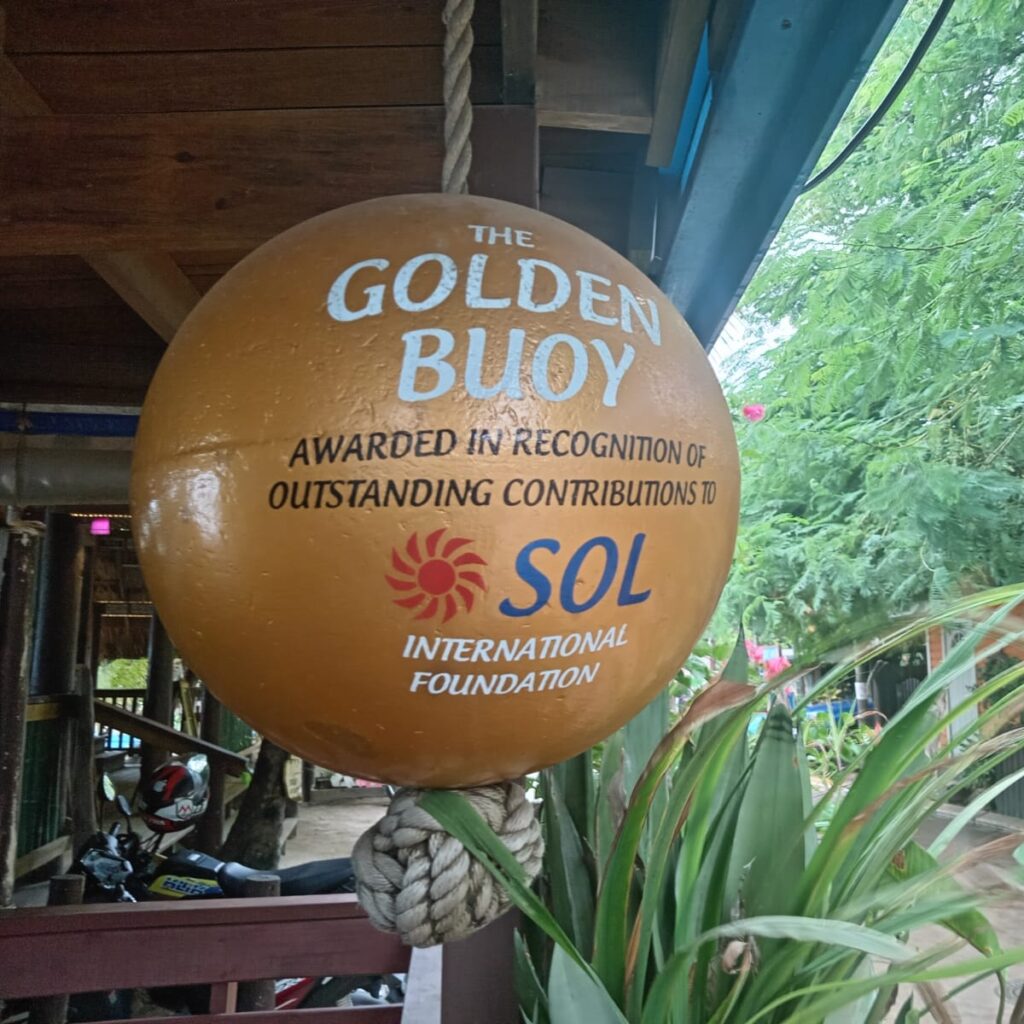 By Sun Divers Roatan / October 16, 2022 /
Blogs
Diving is one sport that doesn't have that "go for the gold" style competition. There's no World Cup, no Heisman and certainly no Super Bowl.  
But if you come to Roatan in the fall, you might get to witness or partake in a major competition amongst local dive shops called The Golden Buoy Competition.  
The Golden Buoy is a highly coveted award that is bestowed upon the dive shop that can raise the most money for SOL International Foundation. Each participating dive shop creates their own unique fundraising event in support of SOL. And then competition season is culminated with Dive Shop Olympics where teams of five people from each shop compete in outrageous events like a three-legged snorkel race or hot dog eating contest.  
How did the Golden Buoy come about?  
Like all good ideas, the Golden Buoy was concepted over a few drinks at the local Roatan watering hole, Sundowners in 2007. SOL Founders Dave Elmore and Brandon Raab, along with their buddies Mark Flanagan (of Roatan Island Brew Co.), Mal Forrest (formerly of Sun Divers)  and Nick Taruscio came up with the idea as a way to creatively engage the community in supporting SOL, while raising the profile of the organization and the positive impact they were making in the community.  
Five shops competed the first year through raffles, auctions, scavenger hunts and the ever-creative three-legged pub crawl. "As the years went by, the events became more and more imaginative, and the event took on a life of its own," Dave said. "We found that it was the one thing that seemed to bring all the different dive shops together, working toward a single goal of raising money for the kids in the community."  
Tell me more about these events! 
Some of the more memorable (and comical) events have been belly flop competitions, the pub crawls and poker runs.  
"The best thing about the Golden Buoy is that it brings the community together for a great cause," SOL International Foundation Treasurer and Owner of Roatan Island Brew Co. Joanie Flanagan said.  
Dive Shops host fundraising events that run the gamut, from cornhole competitions to family carnivals. We can't wait to see what this year had in store for our community.
Sun Divers will continue our tradition of hosting the island's premier golf tournament. Our 7th Annual Charity Golf Tournament will take place on September 9 at the Black Pearl Golf Resort at Pristine Bay. We have space for twice as many players this year, which means we can raise even more money for the amazing work that the SOL International Foundation does for our island community. Check out the event & registration details!
And tournament sponsors are a major way that we raise our charitable funds, so if you have a company or brand that you're looking to elevate your profile in the Roatan community, be sure to look into becoming a sponsor.
Is there an actual Golden Buoy?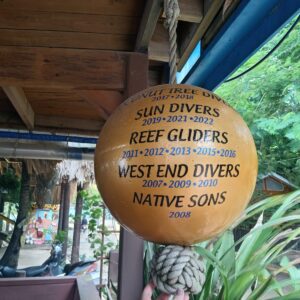 While the Golden Buoy competition is really done in the name of Roatan's kids, no competition is complete without a coveted grand prize. There must be a symbol of triumph and a source of motivation for future competitions. For dive shops in Roatan, that golden glory comes in the form of shiny, gold buoy that the winning dive center gets to display proudly in their dive shop.  
The Golden Buoy was designed and painted by local artist Bella Willshire. Last year, the Golden Buoy was given a facelift so that it could shine bright when it was brought to hang back up at Sun Divers for yet another year. 
Previous winners of the Golden Buoy include Native Sons, West End Divers, Coconut Tree Divers, Reef Gliders, and Sun Divers where the prized possession currently hangs.  
Help Sun Divers keep the Golden Buoy!  
While the golf tournament is SOLD OUT, you can still support the SOL foundation and help us keep the Golden Buoy hanging in her rightful place, by donating directly to the SOL Foundation here. Be sure to add "Sun Divers" in the notes section and send us a screen shot to +504-9585-2113 or [email protected] so we can add it to our fundraising tally! 
How are the funds raised used? 
There have been at least 13 Golden Buoy competitions and well over $100,000 raised in support of the SOL International Foundation. Last year, Sun Divers was able to raise a whopping $15,500.  These funds go to support SOL academic scholarships – of which they currently have 40 students ranging from kindergarten to med school. They also operate a community center that serves breakfast to local kids and offers a wide range of learning opportunities, as well as Little League and several other sports programs that hundreds of local kids participate in. All these initiatives are providing local kids with a good education, positive extracurricular activities and proper nutrition – building blocks to nurturing healthy, successful adults and community members.  
To learn more about SOL International Foundation, visit their website. And stay tuned for the results of the 2023 Golden Buoy Competition!