DIY: How to Paint Scuba Diving Fins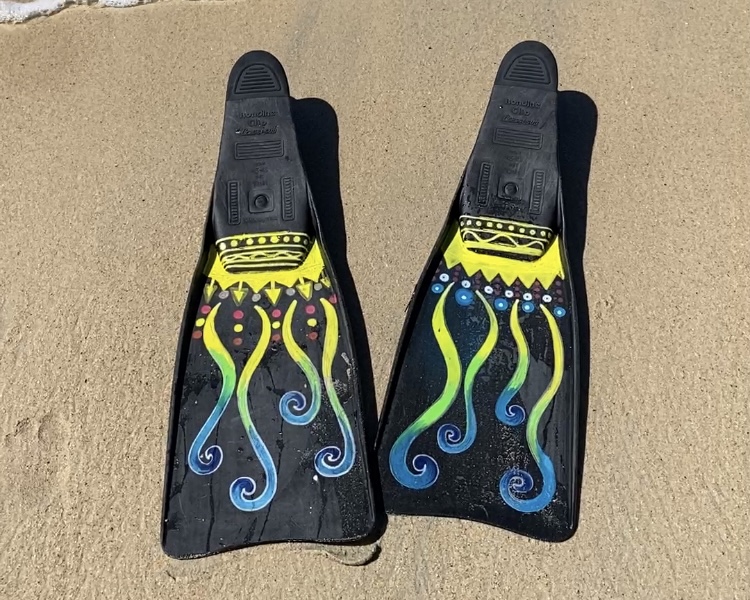 By Sun Divers Roatan / March 28, 2023 /
Blogs
Add some flair to your scuba diving equipment with these easy instructions on how to paint your scuba diving fins.  
As dive equipment goes, there is not much that you can do to add your own sense of style beyond choosing unique colors and maybe a colorful rashguard. But you can let your individuality shine by using non-toxic paints to add some personal flair to your fins – and stand out on your next dive.  
Why Paint Your Scuba Diving Fins 
In addition to taking your dive style to the next level, there are some practical reasons to paint scuba diving fins. If you're an instructor or divemaster, they make you easy and spot to follow in a dive group. If you're a recreational diver – you can rest assured, you'll never lose your fins in a busy shop or on a busy boat. Or worse, mistake your fins for someone else's…Trust us, this happens more often than you think!  
But at the end of the day, painting your scuba diving fins is just a fun way to show off your own unique style. 
Sun Divers hosted a fin-painting party for our dive tribe here in Roatan.
Here are the tips & tricks we learned are best for long-lasting, personalized designs on your scuba diving fins.
How To Paint Scuba Diving Fins 
Step One: Wash & Dry Your Fins 
Use soap and warm water to remove salt, sand and dust from your fins. Wash thoroughly and then towel or air dry.  
Step Two: Sand Your Fins Down  
In order for the paint to stick to your fins, you need to scuff up the surface. To do this, use XX mm sand paper and scuff up the area where you want to paint the fins. If you find that the paint is bleeding when you go to design, that's a sign that you need to sand your fins down even more.  
Step Three: Get Creative with (Non-toxic) Paint  
From there, the world is your oyster. Go crazy with color adding any touches to your fins that speak to you. If you're great with freehand, just go for it. Or you can sketch your design out first with pencil – erasing where needed. These stencils were a life saver for some of us. But be careful because on some fin surfaces the paint can bleed under the stencil just creating a big blob of color. This is especially true if you've not sanded your fins down enough. 
Be sure to use non-toxic, water-based paint. We loved these paint pens.  
And it's nice to have a series of acrylic paint brushes with different tip shapes and sizes for finer details.  
Step 4: Allow your fins to dry  
You're going to want to use them right away. And you're going to be tempted to touch the paint to see if it's dry. DON'T. Just be patient and let your fins dry for at least 24 hours to be safe.  
Other Scuba Fin Painting Tips  
Acetone is your friend. If you make a mistake (which you wil), it's the magic eraser! 

 
Do NOT use lacquer. We did our research beforehand, and some blogs suggested applying a spray lacquer to seal in the design. One person tested this and it dulled the paint pens and eventually flaked off. The outcome was fugly fins and the potential for lacquer to end up in the ocean which is no bueno in our book.

 

Go abstract! If you still draw like you're in kindergarten (raises hand 👋) then avoid detailed imagery and just go with an abstract design when you paint your scuba fins. This will be much more forgiving for any errors.

 
Now you have all our best tips for how to paint scuba diving fins. Check out some of our dive tribes creativity for inspo! 
Painted Scuba Diving Fins Inspo