ROA Girls Dive! Scholarship Update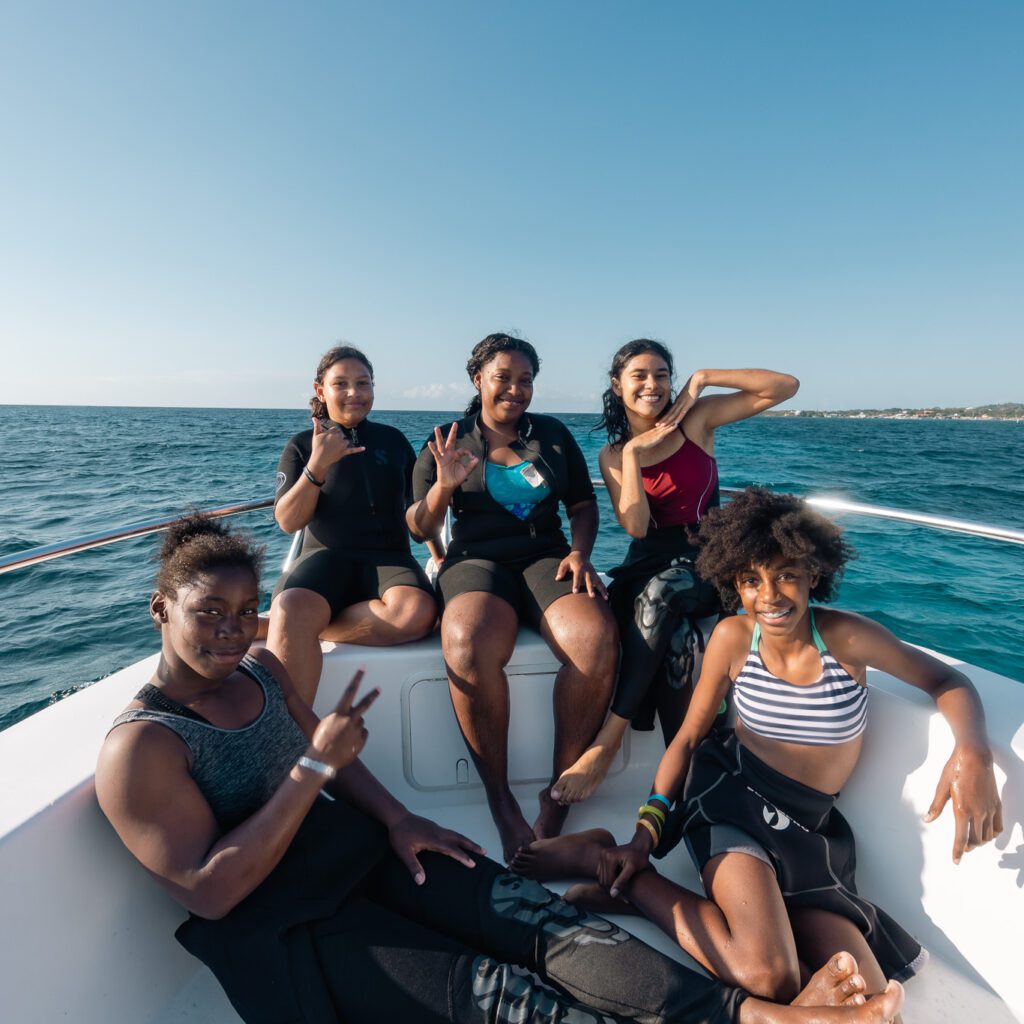 By Sun Divers Roatan / June 26, 2023 /
Blogs
School's out! And there's lots of ROA girls blowing bubbles here at Sun Divers thanks to the generous contributions of our dive tribe 🤿🫧
To date, the scholarship program has supported 4 Discover Scuba Diving experiences, 9 PADI certifications and an exciting day out on the water for some fun diving. We've watched these girls develop a love for scuba diving and Roatan's amazing marine wildlife. And that passion has become infectious! Interest in the program has grown immensely as word has spread about just how cool it is to get to blow bubbles in your own backyard.
Watching these girls embrace new adventures, learn new skills, and even overcome fears & challenges has been nothing but amazing. We're in awe at how brave and embracing they've been in the process. And seeing their pride and smiles shine has been the ultimate reward. Want to share in the joy? Check out our ROA Girls Dive! webpage for a video recap of our latest scholarship activities – and get ready for lots of smiles and high fives!
What's Next for ROA Girls Dive!
Our next focus is to take all the girls who have been certified and advance them to the next level. That means upgrading Scuba Divers who are certified to dive to 40 feet, to Open Water Divers. And taking our Advanced Open Water Divers to the next level with Emergency First Responder and Rescue Diver certifications.
And, if we're able to raise more funds, we'll start a whole new wave of introductory experience and certifications.
How You Can Help
Whether you're a continuing supporter or just learning about ROA Girls Dive! there are lots of opportunities to help us reach more local girls.
Join PADI Women's Dive Day in Roatan: This July 15, we'll hold our third annual Dip & Sip event. Enjoy some epic Roatan  diving, as well as a sunset social at our neighbors Sundowners. Get to meet other women who are passionate about the ocean and diving, while supporting Roatan's girls. 100% of ticket costs benefit Roatan Peer Health Exchange and the ROA Girls Dive! Scholarship program. Register today!
Sponsor a Girl to Dive! We're continuing to raise funds to connect more girls to the ocean and you can help. Donate by visiting the ROA Girls Dive! Gofundme page. Course costs are subsidized by Sun Divers and PADI 76-85% depending upon the course, so it costs $200 – $264 per certification scholarship. And we're always happy to share updates about the ROA girl that you helped sponsor, just ask!
About ROA Girls Dive!
The ROA Girls Dive! Scholarship program was founded in 2022 to help connect local girls & women to scuba diving. The program is a partnership between Sun Divers, Roatan Peer Health Exchange and PADI – and was developed to increase Roatan's girls' access to scuba diving both as a sport and as a profession.
This scholarship program certifies young women in Roatan in all recreational scuba diving courses from Open Water to Divemaster. The program's goals are threefold: to enrich lives, develop our future's environmental stewards and create awareness of the professional pathways that these young women can take in the scuba diving industry.