5 Reasons to Get PADI Advanced Open Water Certified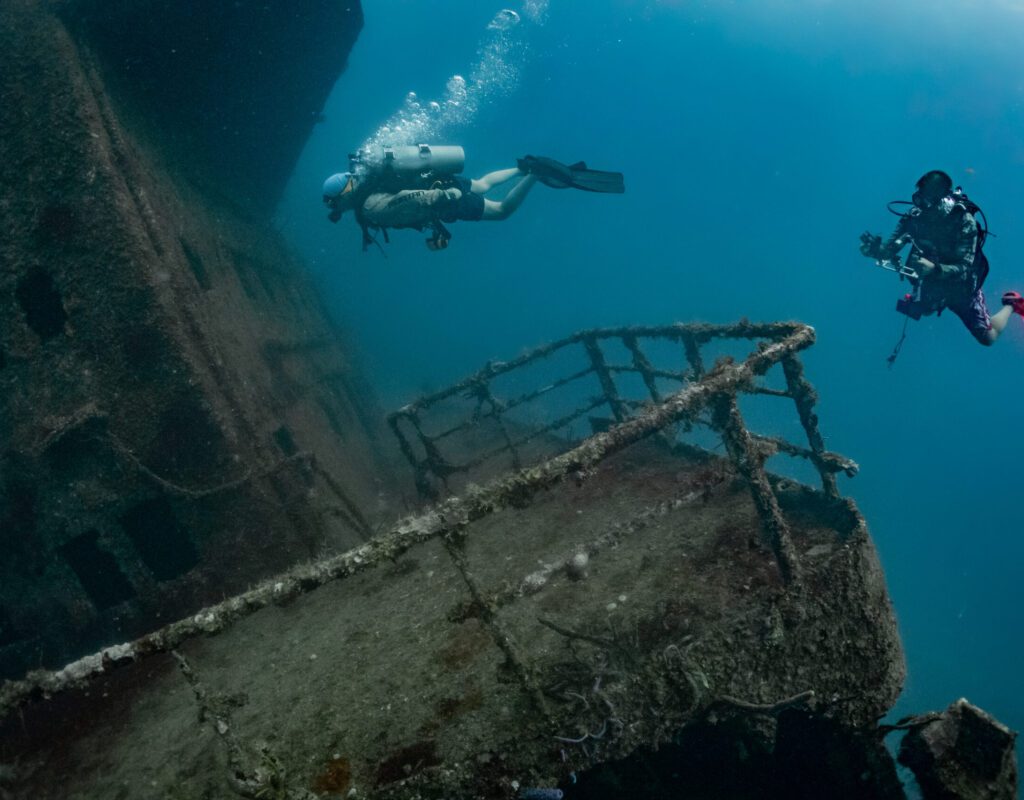 By KimL / November 20, 2023 /
Blogs
Are you weighing the cost vs. benefit of getting your PADI Advanced Open Water certification? If so, you're not alone. When you become open water certified, you're technically able to do any recreational dive. So you might be thinking 'why get my advanced?'
But we promise, you learn and experience something new with the PADI Advanced Open Water certification – whether you're a new open water diver or have been exploring depths for decades. And the more training you have, the safer a diver you'll be, which is never a bad thing. Plus, the course is only two days, requires minimal self study time and is just plain fun to do. 
Not convinced yet? Here's a few good reasons that we think will convince you to get your PADI Advanced Open Water. And hopefully you'll do it in Roatan!
1. Elevate your expertise
Whether you're still new to diving or already have hundreds of dives logged, the PADI Advanced Open Water course presents the perfect opportunity to build upon the fundamental skills you have acquired. It enables you to expand your knowledge of dive theory and skills proficiency, so that you're well-equipped for the challenges and wonders that lie beneath the surface.
The PADI Advanced Open Water certification is fun and flexible, and it takes a more hands-on approach to learning. You learn by diving: No written exams required! Instead, you have informative briefings before and after each dive, and you practice achieving dive objectives and safety protocols.
You can gain a deeper understanding of how to control your buoyancy with your breath in the Peak Performance Buoyancy adventure dive. Or you can learn the proper way to signal and communicate with your dive buddy during night dives. When you immerse yourself in these real diving scenarios, you gain hands-on experience and practical knowledge that deepens your expertise. 
2. Gain access to advanced dive sites 
If you dive with a reputable dive shop, they will only take you to your training limits. This is especially true when it comes to advanced deep dives, night dives or wreck penetration. Without your advanced certification, reputable dive shops in Roatán won't take you to see our majestic wrecks at 100 feet or on a night dive to see the String of Pearls. 
As an open water diver, you can dive to 60ft/18. When you get PADI Advanced Open Water certified, you are trained to dive to 100ft/30m. Roatán deep dives include wrecks such as El Aguila and the Odyssey shipwreck, as well as an amazing swimthrough experience at Hole in the Wall. These dives are also a great opportunity to develop your deep diving skills. And the Deep Adventure dive in the PADI advanced open water course counts toward the PADI Deep Diver Specialty.
There are also a few dive sites in Roatan that are worth diving on Nitrox.  The Enriched Air specialty certification is offered at a discount when bundle it with the PADI Advanced Open Water course at Sun Divers. Check out the benefits of diving Nitrox.
The Open Water course teaches the fundamental skills and safety procedures of diving, but the PADI Advanced Open Water course focuses on expanding those skills and introduces divers to new dive environments and scenarios. Divers complete 5 adventure dives. Each dive focuses on a specific type of diving or skill. The best part: You can get Advanced Open Water certified in Roatán in only 2 days. While navigation and deep diving are mandatory adventure dives, you have the flexibility to explore 3 additional specialties such as:
Night Diver

Fish Identification

Drift Diving

Peak Performance Buoyancy

Wreck Diving

Underwater Naturalist

Digital Underwater Photography
3. Dive with more confidence
With each adventure dive, you gain remarkable growth in your confidence as a diver. By applying your skills in different dive scenarios, you develop the ability to adapt to a variety of conditions and environments. This newfound confidence will enable you to explore with a sense of ease and safety. You'll know that you have the knowledge and training to handle different situations. 
4. Make your dives more interesting
The skills you perform during the PADI Advanced Open Water course add an interesting new twist to diving. This makes it an entertaining course to take, especially if you feel like you've seen and done it all in diving or love a good mental challenge. You will try your hand at number games and math at depths to safely learn how nitrogen narcosis can affect decision making and motor skills. You'll learn how to easily use a compass under water – and on land for that matter! And you can go through an underwater obstacle course to practice staying neutrally buoyant or learn underwater photography basics.
5. It's required for other courses 
The PADI Advanced Open Water is the first continuing education course you need this certification if you have any interest in other PADI courses. It's a requisite for Rescue Diver and Divemaster. And you must be advanced certified or at least have your PADI Adventure cert in order to achieve most of the PADI specialty certifications. Luckily, the adventure dives also count toward one of the open water dive requirements for all the specialties – so you get some bang for your buck there!
Why Get Your PADI Advanced Open Water in Roatan? 
With Roatán's year-round diving opportunities, you can get certified at any time of the year. Immerse yourself in a wide variety of exhilarating dives, from deep sea swim throughs to intriguing shipwrecks. When you embark on your PADI Advanced Open Water certification journey with Sun Divers you'll get to learn with a experienced and knowledgeable instructors from diverse backgrounds. You'oll enjoy the advantage of small course groups, ensuring personalized attention and a safe learning environment. 
So, is it worth it to get your Advanced Open Water certification?
Whether you're a recent Open Water certification holder or an experienced diver, the transition to become a PADI Advanced Open Water Diver offers an exciting opportunity to expand your expertise. It's also a chance to connect more with the worldwide diving community. When you get PADI Advanced Open Water certified, you learn by diving. You will dive more confidently and be able to dive as deep as 100ft (30m). Embrace the thrill of real-world dive experiences, deepen your skills, and unlock your full dive potential.
Are you ready to embark on this extraordinary journey? Contact us to schedule your Advanced Open Water course in Roatan.